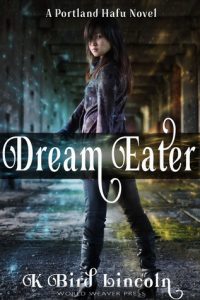 I won a copy of Dream Eater, by K. Bird Lincoln through LibraryThing.
Description from Goodreads:
Koi Pierce dreams other peoples' dreams.
Her whole life she's avoided other people. Any skin-to-skin contact–a hug from her sister, the hand of a barista at Stumptown coffee–transfers flashes of that person's most intense dreams. It's enough to make anyone a hermit.
But Koi's getting her act together. No matter what, this time she's going to finish her degree at Portland Community College and get a real life. Of course it's not going to be that easy. Her father, increasingly disturbed from Altzheimer's disease, a dream fragment of a dead girl from the casual brush of a creepy PCC professor's hand, and a mysterious stranger who speaks the same rare Northern Japanese dialect as Koi's father will force Koi to learn to trust in the help of others, as well as face the truth about herself.
Review:
Not bad, I enjoyed it well enough. I thought Koi was a pleasantly strong character, if clueless. (I've been taking note lately of how often plots are based around young women not being taught their magical heritage until disaster strikes. And this was one more such plot.) I liked Ken, the hero, but didn't feel he was particularly well fleshed out. The same could be said for all the characters, actually.
The writing isn't bad, especially if you like things a little on the heavy, ponderous side. But I know there are those who don't like the style and would call it too vague and purple. To each their own.
This book uses both Japanese and Native American mythology (and one reference to something Middle Eastern). I don't know Lincoln's nationality, but I did feel some of the Japanese felt a bit over-played, forced into places it wasn't needed. I liked some of the authenticity (if Lincoln is Japanese and not just a good mimic), such as the male-slang. But some of the Japanese words, especially the couple that were repeated a lot, felt pretentious.
All in all, not a bad read. I'd pick up another by this author. In fact, I have another of her books that I'll have to move up the To-Be-Read shelf.