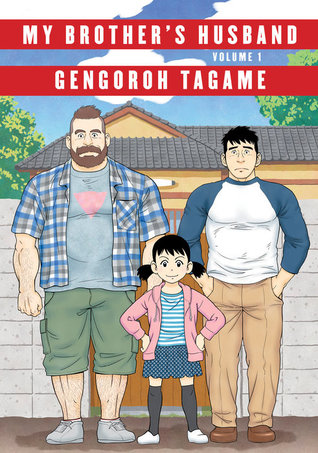 I won a copy of Gengoroh Tagame's My Brother's Husband through Goodreads.
Description:
Yaichi is a work-at-home suburban dad in contemporary Tokyo; formerly married to Natsuki, father to their young daughter, Kana. Their lives suddenly change with the arrival at their doorstep of a hulking, affable Canadian named Mike Flanagan, who declares himself the widower of Yaichi's estranged gay twin, Ryoji. Mike is on a quest to explore Ryoji's past, and the family reluctantly but dutifully takes him in. What follows is an unprecedented and heartbreaking look at the state of a largely still-closeted Japanese gay culture: how it's been affected by the West, and how the next generation can change the preconceptions about it and prejudices against it.
Review:
I thought this was very cute and sweet, if a tad heavy-handed in its moral instruction. Especially in the use of the daughter to instigate award questions that lead to further thought and acceptance. But I also acknowledge that this was originally published in Japan and translated for the English-speaking public. I'm not going to judge what is or isn't needed or passes/doesn't pass for standards and norms in another culture.
I liked the bear-like art, the positive representation of divorce, and the way the reader is given access to both the panic inside Yaichi's head and the polite things he actually says. I'd certainly read the next installment.