I received a copy of Seer, by S.E. Welsh through Netgalley.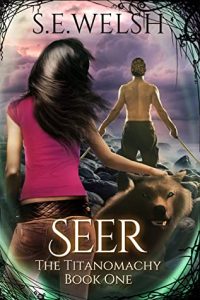 Description from Goodreads:
Seeing the future is hard, but facing it will be explosive

A Seer has surfaced—but she's blind!

Chloe Santos is an immortal with a whole world of problems. The victim of an attempted murder that left her blind, horribly disfigured, and stuck with powers everyone thought eradicated, it's safe to say she's at a low point in her life. But then she's blackmailed into investigating a kidnapping with links to her past. It could put herself, and everyone she cares about, in danger.

Including her Warrior Soulmate.

Phobos has a millennia of blood on his hands. As the son of Ares, he's done horrific things in the name of keeping the continued existence of immortals a secret. Only all of that changes when he meets his Soulmate.

Allegiances shift, trust is thin and Chloe has to decide if she should risk everything to make the world a better place. Even if that means sacrificing her own chance at happiness.
Review:
This was not a winner for me. It has several plot holes. I felt the plot was unfocused and meandered too much, and lastly, the whole thing was just steeped in rape. It was this last point that kept me from being able to enjoy the story. Seemingly every older female has a history of horrific rape, the heroine is repeatedly put into the position to psychically relive those events with them, and the verb rape is even used to describe things. As in, "she raped my mind" to describe someone psychically forcing themselves into the main character's mind.

I didn't even think the sex scenes were well done. Especially given the Readers Advisory that reads, "This Paranormal Romance contains a strong-willed goddess and her protective Warrior Soulmate who don't appreciate the term 'vanilla' when it comes to the bedroom." Here's the thing, the characters really were very vanilla in the bedroom. Granted, they had one brief bout of anal sex (about three paragraphs long, tacked onto the end of another sex scene, having no emotional impact at all). But that's hardly transgressive or particularly kinky. The sex was blase to the extreme. It definitely did not live up to the titillation of that advisory.

All in all, the writing was readable but the plot and story lacked that something special to make it more than just words on a page.