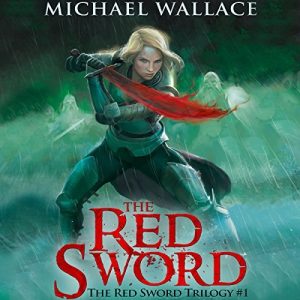 I received an Audible code for a copy of Michael Wallace's The Red Sword.
Description from Goodreads:
Markal, an apprentice wizard, is thrust unexpectedly to the head of his order when his master is decapitated by a gray-skinned assassin. The order's walled gardens have the power to restore their dead master to life, but only if the apprentices can protect his body long enough for their sanctuary to work its magic.
When a barbarian warrior named Bronwyn invades the gardens wielding a soul-binding sword and accuses the order of harboring a powerful sorcerer, Markal thinks she is another assassin come to finish the job. But Bronwyn is a paladin, a holy warrior from across the mountains, and her presence is a harbinger of a greater threat than Markal had imagined, a necromancer with the power to command the dead.
Together, they must join forces before the necromancer destroys Markal's order and overruns Bronwyn's homeland.
Review:
Honestly not bad and the narrator, Rosemary Benson, did an excellent job, which really enhanced the story for me. There was quite a bit of humor in the way the apprentices interacted. Each had a distinct voice. I really appreciated that there was more than one male/female platonic friendships. And the writing is pretty good, though I would call this YA fiction despite the characters ages.
All in all, I was pretty pleased with the story. I found a few aspects of it unbelievable and I would have like more explanation of the magic system. What's up with all the bleeding, for example? But I only really had one major complaint. Or rather one, three pronged complaint. This is a bit of spoiler, be warned.
One of my favorite characters, and more to the point, an important character, the character on the cover died. This I could handle, except for three factors. One, it's completely anticlimactic. She was basically just thrown away with no fanfare or importance. Her death was like three sentences in the background. This completely didn't fit her importance in the story up to that point. Two, if you're going to throw a character away as meaningless, I don't think you can also put her on the cover of the book. Sorry. This annoyed me. Three, she was one of two female characters in the book (not counting the background servants). The book really did need her or at the very least another HER.