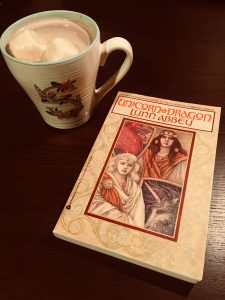 Lynn Abbey's Unicorn & Dragon is one of those books that's been sitting on my shelf for years. The darned thing was published in 1987. I'm fairly sure I bought it at a used bookstore simply because it looked interesting.
Description from Goodreads:
Wolves are loose in the English countryside. A dying monarch cannot enforce the laws, and his heirs are circling like vultures. The small castle that is Hafwynder Manor is thrown into chaos by the arrival of a mysterious young stranger, too badly wounded to explain his plans. The forces of 11th century history invade Hafwynder Manor. Its safety—and perhaps the fate of all England—may depend on the deeds of the blonde, impulsive Alison and her sister, the dark-haired and cunning Wildecent. With the forces of the outside world raging at the castle walls, the two young women must learn to shape their own destiny!
Review:
I would have been greatly assisted in reading this book if I had a firmer grasp of the 11th century politics of the Normans, Saxons, English and French. I was able to follow the plot, but there was definitely a whole element I was locked out of, seeing as knowing at least the rudiments of this history seems to be assumed. As it was I thought it was interesting, but never truly felt I got to know the characters and at the end was left wondering, "Eh, what was the point?" Perhaps it become clearer in future books. This one wasn't bad, but it didn't sizzle for me either. Maybe it just hasn't aged well, being published so long ago.