I received a copy of Eugen Bacon's The Road to Woop Woop, and Other Stories from the publisher.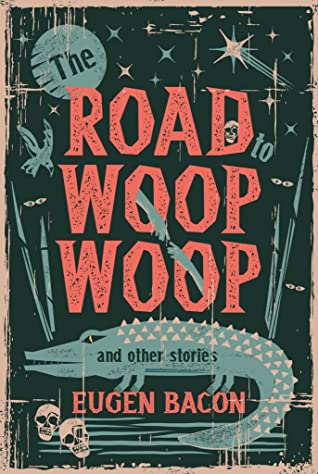 Description from Goodreads:
The Road to Woop Woop is a lush collection of literary speculative stories that lauds the untraditional, the extraordinary, the strange, the peculiar, the unusual that exist within and on the borders of normalcy. These tales refuse to be easily categorized, and that's a good thing: they are dirges that cross genres in astounding ways.

Over 20 provocative tales, with seven original to this collection, and previous works, including: "A Pining," shortlisted, Bridport Prize; "A Case of Seeing," honorable mention, Ron Hubbard's Writers of the Future Award; "Mahuika," highly commended, Fellowship of Australian Writers (FAW) National Literary Awards; "Swimming with Daddy," shortlisted, Alan Marshall Short Story Prize.
Review:
Whenever I review short stories I often preface it with the fact that short form isn't really my jam. I read it on occasion for various reasons, but it isn't my first love. I tell people this so that they can take it into account when deciding how much credence to give my particular review.
Having said all that, I think Bacon's stories were interesting and the writing was lyrical. I thought the collection thought-provoking and emotionally charged. There were times I wasn't entirely certain what was happening or if I'd wholly grokked the underlying meaning of the piece, but I enjoyed most of them.