I accepted a review copy of The Last Book You'll Ever Read through Rockstar Book Tours. It's by Cullen Bunn (author), Leila Leiz (Illustrations), Giada Marchisio (Colorist), Jim Campbell (Letterer). The book was also spotlighted over on Sadie's Spotlight. So, you can hop over there for an interview and  a chance to win a copy of the book for yourself.

Read this book at your own peril.
Olivia Kade wrote the book that ended the world. Now she needs someone who won't read it.
Civilization is a lie. Hidden deep in our genes is the truth. And it is slowly clawing its way to the surface. Olivia Kade knows the truth, and she has become the prophet of the coming collapse. Her book, SATYR, is an international bestseller, and it is being blamed for acts of senseless violence and bloodshed all over the world. Olivia's own life is in danger from those who have read her work. Determined to conduct a book tour, she hires security professional Connor Wilson to act as her bodyguard. She only has one requirement: he cannot read her work.
Collects the entire smash 8-issue series.


I thought this was OK, leaning toward Meh. I liked the art, the way it was clean sometimes, but then loose when people lost their civilized mien. The subtle ways some things were relayed tickled me—like Conner suddenly going shirtless (let's say half naked for the sake of my comparison) at the same time that he essentially went half Wilding. I loved the coloring and I saw where the author was going with the plot. But I still have to say 'Meh.'
One of the main reasons is how sexualized so many things are. Now, I know when a female reader of a male claimed media (as graphic novels still are) starts saying anything like "I thought there was too much sex," or "the female character was too sexualized," a lot of people roll their eyes and dismiss the reviewer as a pearl-clutcher, a feminazi or whatever—and yes, I know women were involved in the publication. But hear me out.
I understand that the book is saying humanity is skewing toward baser instincts. Sex and lust are just such instincts and the Olivia's book was called Satyr, after all. Plus, even the main characters were losing themselves in a way. I didn't miss any of the symbolism (and I don't have any general issue with nudity or sex in a graphic novel, not even a gory horror one). But I also don't think any—except maybe one—sex scene is actually stitched into the plot. There are several of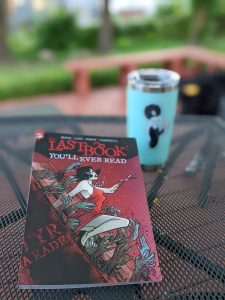 them and they tend to just be shoved in between chapters with no real plot-relevant purpose. And there are just so many non-sexual panels that are a little too male gaze sexy to serve the purpose. The cover is a great example of what I mean. I eventually just rolled my eyes at it all. Not because I was overly scandalized or because my feminist leanings, but because it was all just so darned pedestrian. I was legitimately bored by it.
All in all, I didn't hate it. I saw value in it. But it definitely wasn't my favorite graphic novel of the year.
---
Other Reviews:
Insatiable Readers: Last Book You'll Ever Read
The Last Book You'll Ever Read: The Complete Series by Cullen Bunn & Others (Major Spoilers Ahead)