If you've not noticed from my recent reviews, I'm trying to read a number of my YA physical books. It's a tricky way to clear some shelf space. You see, my oldest has now reached the age that she can read some of the younger YA books (those not overtly sexual or overly violent), which means if I get them read I can move them from MY shelf to HER shelf. Ta-da!!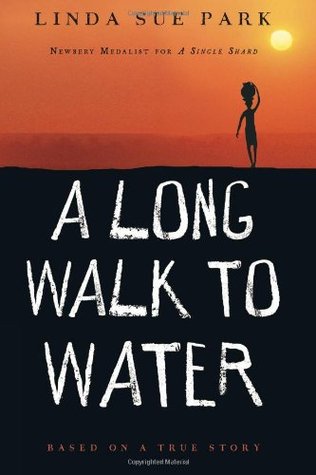 A Long Walk to Water (by Linda Sue Park) is one such book. I'm not sure where it came from though. I like to say in my review posts where I got the book. But this one is a mystery. Probably I bought it, but maybe someone left it in the Little Free Library. I'm fairly sure I didn't win it.
Description from Goodreads:
A Long Walk to Water begins as two stories, told in alternating sections, about a girl in Sudan in 2008 and a boy in Sudan in 1985. The girl, Nya, is fetching water from a pond that is two hours' walk from her home: she makes two trips to the pond every day. The boy, Salva, becomes one of the "lost boys" of Sudan, refugees who cover the African continent on foot as they search for their families and for a safe place to stay. Enduring every hardship from loneliness to attack by armed rebels to contact with killer lions and crocodiles, Salva is a survivor, and his story goes on to intersect with Nya's in an astonishing and moving way.
Review:
Written for a young audience, this story of one of the Lost Boys of the Second Sudanese Civil War is quite accessible. Though, lets be honest, covering 20 years in 115 pages, what you get is an overview more than an engaging story. But it's enough to introduce a student to the travesties of war, as well as the hopefulness and generosity of humanity. I consider it worth the read.