I picked up a copy of Natalya Capello's Song of Shadow as an Amazon freebie, earlier this year.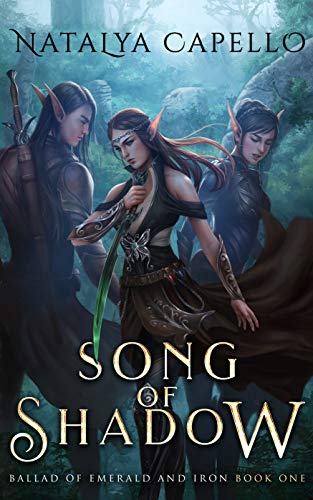 They said she was out of her mind. The dark truth will shake the foundations of the fae realm…
Lorelei refuses to believe her wild visions mean she's insane. But despite her royal sidhe heritage, she's banished to a remote priory to prevent her causing trouble. So when a priestess of the Elemental Order urges her to join a risky pilgrimage, she flees her prison and sails headlong into danger.
Traveling to an ancient land imbued with volatile magic, she chokes back her disbelief after unearthing evil sorcery that shouldn't exist. And now that Lorelei holds the forbidden secrets, she fears it's only a matter of time before the powerful Elphyne Empire silences her permanently. If the fae church's ruthless assassins don't hunt her down first…
Can Lorelei expose the sinister conspiracy before darkness falls forever?

I gotta be honest. This has a great cover, but I was bored stiff by it. It's just so very linear. This happens, and then this happens, and then this happens, and then this happens. There is no build up of tension or feeling of being immersed in a broader story. And so very many of the things that happened were the group running into battle, getting injured, freeing someone, getting healed to run off and to the exact same thing again. It got redundant.
Then there is one of my biggest pet peeves. This book is labeled as book one. But there is apparently a novella that comes before it that really needs to have been read for some things to make sense. I am of the firm belief that if the prequel needs to be read (not just a bonus, but is an integral part of the story and plot), IT IS BOOK ONE OF THE SERIES.
I did like some of the characters, Wes in particular. And the mechanical writing is plenty readable. But I just couldn't really ever get into it.