I purchased an e-copy of K.B. Wagers' Behind the Throne from the dreaded 'Zon.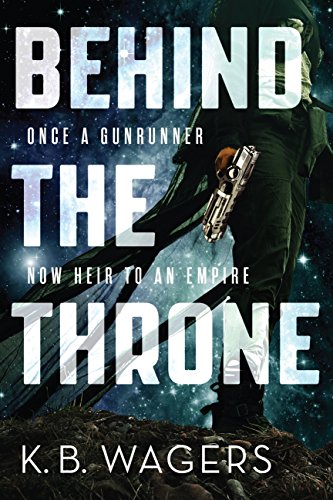 Meet Hail: Captain. Gunrunner. Fugitive.
Quick, sarcastic, and lethal, Hailimi Bristol doesn't suffer fools gladly. She has made a name for herself in the galaxy for everything except what she was born to do: rule the Indranan Empire. That is, until two Trackers drag her back to her home planet to take her rightful place as the only remaining heir.
But trading her ship for a palace has more dangers than Hail could have anticipated. Caught in a web of plots and assassination attempts, Hail can't do the one thing she did twenty years ago: run away. She'll have to figure out who murdered her sisters if she wants to survive.


I'll say up front that this book didn't turn out to be what I expected. The cover led me to expect a woman of action, out effecting change in the world(s). What I got was a woman who spends a lot of time changing from one fancy dress or sari to other fancy suits, drinking a lot of chai, and effecting change by dent of surviving, mostly thanks to the efforts of the men around her (who she allows to make most of her decisions and looks to for plans and instruction almost constantly).
And I'm not saying I didn't enjoy the book. I actually did. I liked all the characters. I liked that it had both male and female characters of note, but no romance. I loved that Hail was almost 40.  I liked the writing, the humor, and the world. But the book wasn't what I was hoping for.
What's more, it kind of failed in some of what it was. It tried really hard to subvert gender norms by giving the reader a matriarchy where men are largely and systematically disenfranchisement (as woman have been in the past). But it was just lip service. As others have pointed out, if you made Hail male and the guards female, this book wouldn't work. It's simply too firmly entrenched in expected gender norms, which means it's not actually as transgressive as it's clearly trying to be.
But again, none of that would really matter if I hadn't gone into the book expecting more than I was given. All in all, I'll likely finish the series. I did like the book. It just wasn't the book I'd hoped it would be.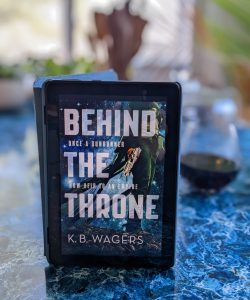 ---
Other Reviews:
Book Review: Behind the Throne, by K.B. Wagers
Book Review: Behind the Throne, by K.B. Wagers