Carissa Broadbent's The Serpent and the Wings of Night was on Sadie's Spotlight's Instagram page a few months back. I was given a copy of the book for participating in the book tour.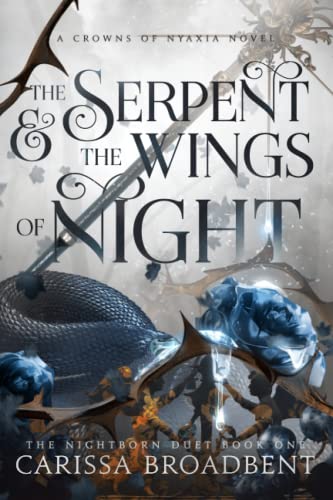 For humans and vampires, the rules of survival are the same: never trust, never yield, and always – always – guard your heart.
The adopted human daughter of the Nightborn vampire king, Oraya carved her place in a world designed to kill her. Her only chance to become something more than prey is entering the Kejari: a legendary tournament held by the goddess of death herself.
But winning won't be easy amongst the most vicious warriors from all three vampire houses. To survive, Oraya is forced to make an alliance with a mysterious rival.
Everything about Raihn is dangerous. He is a ruthless vampire, an efficient killer, an enemy to her father's crown… and her greatest competition. Yet, what terrifies Oraya most of all is that she finds herself oddly drawn to him.
But there's no room for compassion in the Kejari. War for the House of Night brews, shattering everything that Oraya thought she knew about her home. And Raihn may understand her more than anyone – but their blossoming attraction could be her downfall, in a kingdom where nothing is more deadly than love.


I quite enjoyed this. I don't think there's anything particularly new or discursive in the plot. It never really departs from the expected. But the writing/editing is good, and I had fun with it.
I liked both main characters. There was humor, grit, an interesting world and politics (even if it focused pretty narrowly within it). There are platonic cross-gender friendships and exploration of characters who are both loved/loving and monstrous. Plus, I was so invested in Ibrihim (a side character). I cannot tell you!
I'll be looking forward to book two. In fact, had I realized it's due out next month, I probably would have held off on reading this one so that I could read them together.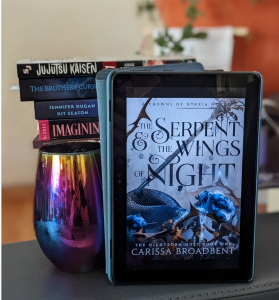 ---
Other Reviews:
The Serpent and the Wings of Night by. Carissa Broadbent | Book Review