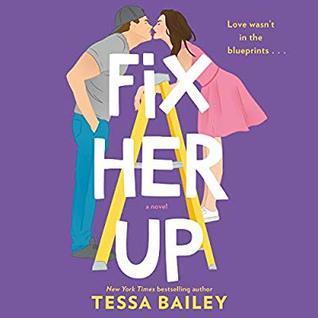 I won a paperback copy of Fix Her Up, by Tessa Bailey. But since it's audiobooks I've been mostly listening to lately, I went ahead and borrowed an audio copy from the library.
Description from Goodreads:
After an injury ends Travis Ford's major league baseball career, he returns home to start over. He just wants to hammer out his frustrations at his new construction gig and forget all about his glory days. But he can't even walk through town without someone recapping his greatest hits. Or making a joke about his… bat. And then there's Georgie, his buddy's little sister, who is definitely not a kid anymore.
Georgette Castle has crushed on her older brother's best friend for years. The grumpy, bear of a man working for her family's house flipping business is a far cry from the charming sports star she used to know. But a moody scowl doesn't scare her and Georgie's determined to show Travis he's more than a pretty face and a batting average, even if it means putting her feelings aside to be "just friends."
Travis wants to brood in peace. But the girl he used to tease is now a funny, full-of-life woman who makes him feel whole again. And he wants her. So damn bad. Except Georgie's off limits and he knows he can't give her what she deserves. But she's becoming the air he breathes and Travis can't stay away, no matter how hard he tries…
Review:
I fully admit that contemporary romance is not a favored genre for me. I much prefer to have some sci-fi or fantasy mixed in there. But I won this book and wanted to read and review it. And it wasn't bad for what it is. There were several times in the book I groaned and rolled my eyes—when the main character was supposed to have legitimately forgotten to put a bra on, the oops I guess I can't wear panties because there aren't any clean ones (tee-hee), all the "baby girls," etc. Such things are contrived and ruin a book for me. 
Further, for people who were supposed to have known one another all their lives (even loved, in one case), no one seemed to know one another very well. And while the sex was hot, I had a hard time reconciling all the smutty talk and rough sex with the silly virginal main character. Lastly, it all wrapped up a little to perfectly, with the requisite happy ending of marriage and babies. 
Having said all that, I did think the couple was cute together. I very much appreciated that they communicated. There were no unnecessary miscommunications and, with the exception of the drama to bring about the finale, both characters were able to perceive the obvious and willing to ask and talk about it. That was seriously refreshing. Plus, the banter was fun. A lot of the communication I so appreciated came about in banter, keeping things light. 
All in all, I didn't love it. But I think I liked it as much as I could. And Charlotte North did a fine job with the narrations.