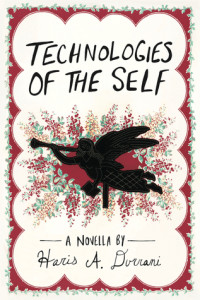 I purchased a copy of Technologies of the Self ( Haris A. Durrani) from Brainmill Press.
Description from Goodreasds:
In this timely and instantly notable fiction debut, Haris Durrani immerses readers in the life of a young American Muslim struggling to understand himself in the context of his family, classmates, and contemporary urban life.
Engineering student Jihad, or "Joe" as he introduces himself in the confusing intersections of post 9/11 New York City, finds himself on a personal quest of possibly a spiritual nature, even if he isn't sure that's what it is – after all, it's hard enough to keep halal in his Dominican-Pakistani-Muslim Washington Heights household.
He's surprised to find himself in the stories his Uncle TomAs tells of his own youth, stories in which TomAs fights both the devil and the weaknesses of the flesh – often at the same time. Culture, nation, religion, family, identity, race, and time battle for dominion over Jihad until he realizes he is facing the same demon his uncle claims to have defeated, and all Jihad has to fight with is himself.
Review:
This was a really interesting read. My takeaway was that it is about intersectionality, cultural adaptation, mediation and compromise, the generational effects of immigration and their importance to ones understanding of self. I chose to take the events as symbolic, but they could easily be read as symptoms of mental illness or literal too, culminating in a slightly different conclusion.
Our narrator, Jihad, lives in New York/Connecticut with two immigrant parents. His mother is from the Dominican Republic and his father is from Pakistan. Half his extended family is Christian, half (including himself) are Muslim. He's well read and becoming well educated, but one of the most influential people in his life is his waster of an uncle, who tells him stories of meeting his Devil. Jihad's life and his experience of America and what it means to be American is not without the need for negotiation, neither is his understanding of what it means to be himself, whoever that may be.
The writing is stark but beautiful. It does require you to ferret out meaning and relative importance of things in much the same way Jihad (and Tomas even more) is doing with his life. It is not a straightforward kind of story, but one worth reading.
There also happens to be a fun little, award-winning, free, prequel type story called Forty-two Reasons Your Girlfriend Works for the FBI, CIA, NSA, ICE, S.H.I.E.L.D., Fringe Division, Men in Black, or Cylon Overlords.