I accepted a review copy go Twelfth Grade Night, by Molly Horton Booth, Stephanie Kate Strohm, & Jamie Green through Rockstar Book Tours. The book was also featured over on Sadie's Spotlight. So, you can hop over there for the tour schedule, an excerpt, author/artist information, and even a chance to enter a giveaway.

Vi came to Arden High for a fresh start and a chance to wear beanies and button-ups instead of uniform skirts. And though doing it without her twin feels like being split in half, Vi finds her stride when she stumbles (literally!) into broody and beautiful poet-slash-influencer, Orsino. Soon Vi gets roped into helping plan the school's Twelfth Grade Night dance, and she can't stop dreaming about slow dancing with Orsino under the fairy lights in the gym.
The problem? All Vi's new friends assume she's not even into guys. And before Vi can ask Orsino to the dance, he recruits Vi to help woo his crush, Olivia. Who has a crush of her own . . . on Vi.

Well, I thought this was simply adorable. It touches briefly on loss and grief. But is mostly focused on finding ones self, found family, sibling and familial love, and the trials and travails of (magical) high school. I'll admit that the magical element wasn't explained in any way (other than a tie-in with the title). It just is and I struggled with that a little bit. But that wasn't a huge deal.
There is a fun—if somewhat eclectic—cast, plenty of representation and diversity, and a satisfying happy for now ending. The art is lovely and the moral of the story endearing. All in all, I'll call this one a win. (And now I'll pass it on to my 15-year-old. Because I know she'll love it.)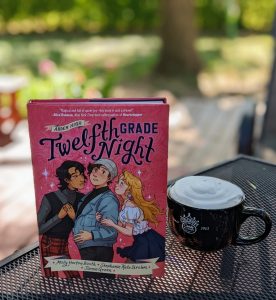 ---
Other Reviews:
Twelfth Grade Night – Blog Tour
Twelfth Grade Night by Molly Horton booth, Stephanie Kate Strohm, and Jamie Green Book Tour post