Note: I'm leaving this post up, because I'm not hiding that I wrote it. But since that time, I've learned a lot and thought more deeply about what the #WeAreSTL posts were about. I've decided that, as well intentioned as they were, they were problematic. They, mine included, were written from a position of privilege. What I (I can't speak for anyone else) was aiming for was solidarity with the city of STL. I intended to show that while the city, including Ferguson, was experiencing was something real, devastating, and important, it wasn't and isn't all there is to STL. I thought I could say both at once, without one delegitimizing the other. But you can't. In actual fact, what was conveyed was "THIS is our Saint Louis, NOT THAT." It created an us and them I didn't intend, but was also admittedly too comfortable to recognize. I'll even be more blatant. It created a 'this is our white STL, not that black STL.' Or maybe 'this is our wealthy STL.' Either way, it was nothing I understood myself to be part of until I looked back at it. For that I'm ashamed of myself, but again, I'm not going to hide mistakes of my past. Just note that I made them and I'm aware of them. I want to end with an apology, but asking for and expecting the forgiveness that goes with it feels like another privilege. Plus, this post is quite old. I'm well aware that I'm writing this addendum for my own hubris.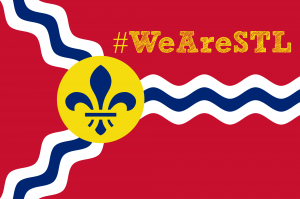 My city is a city in pain. It is with a heavy heart that I've watched the after effect of Michael Brown's death. Everyone seems to have their opinion of it. I have mine too. But while there are a lot of varied ideas on who was or wasn't 'right' in all this, few would argue that the city/county's poor handling of the matter has inflamed entire communities.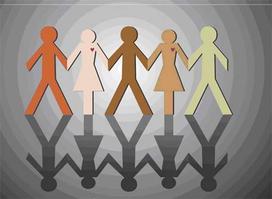 People are hurting—'black people,' 'white people,' people who don't fit so starkly into an ill-defined and largely imagined binary view on race and color. We are hurting and We Are STL.
But we are not all Ferguson, or at least not the Ferguson that the rest of the world thinks they know—Ferguson that the media has reduced to angry mobs and burning buildings.
There is so much more to this city, both the community of Ferguson, which has a long history, a number of stately homes and a flipping farmers market (you never hear about that) and the city of Saint Louis itself.
For this reason the #WeAreSTL initiative was started by a local vlogger, to remind the rest of the world that there is a lot of other good in this city too. (I say other because what is happening in and around Ferguson is a good. It's a growing-pain, but a necessary one.)
Obviously, we don't all vlog. I, for example, blog about books. But everyone is invited to participate. All you have to do is create a short video, post or whatever formats you have access to (sky writing? have a go) and link it to your social media.
Here is mine. I am a reader. Saint Louis is eclectic and literary. I love the independent bookstores, library consortium and abundant places to settle with a book.
Le me break that down a little further for you. I love to read. It is one of my greatest joys in life and Saint Louis is a wonderful city to be a reader in. We have our own Independent Bookstore Alliance. Believe me, in a time when the publishing industry is in such flux, this is an amazing and important thing.
Within ten miles of my home I can visit The Novel Neighbor, The Bookhouse, Webster Groves Book Shop, Dunawy Books, STLBooks, two Left-Bank Books, Big Sleep Books and Subterranean Books. Not to mention the normal chain bookstores and probably at least a few indies I haven't found yet.
The city also has number of yearly bookish events. There is the Greater Saint Louis Book Fair, Lit in the Lou, Saint Louis Jewish Book Festival and  a YMCA Book Fair. And those are just the big yearly events (that I know of). There are a billion smaller or not yearly ones. We have a number of large universities, an expansive library consortium (which I'll discuss in a moment) and all those book stores, all of which host smaller or not yearly writerly events.
And all of that is without even getting into all of the cool places to actually READ. Our library consortium allows you to borrow books from any library in the system; vastly expanding the number of books a reader has access to, which is cool. But the central library is amazing.
St. Louis Public Library 2012 Grand Reopening Video from St. Louis Public Library on Vimeo.
While the Central Branch is unquestioningly the most architecturally stunning, the people of the Ferguson library have demonstrated most clearly what it means to be a St. Louisian.
Many other orgs closing. But we will stay open to serve people of #Ferguson as long as safe for patrons & staff, up to 8p. Love each other.

— Ferguson Library (@fergusonlibrary) November 24, 2014
That's right, they've remained open throughout the unrest in their area, even as school and businesses were closing (or damaged) around them they've kept their doors open to support both their community and those peacefully seeking change in their neighbourhood.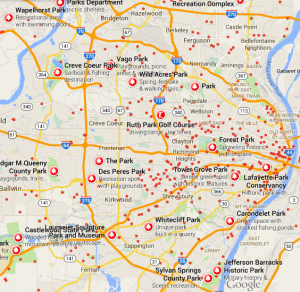 Once you've visited the library and checked out a book or two (dozen) weather permitting, there are a whole host of parks a reader can relax and enjoy their favourite literary wonder in. I highly recommend Forrest Park, Tower Grove Park and Bee Tree Park. If you have a few dollars to spend on atmosphere, the Botanical Gardens are always a delightful place to pair a book and bench.
If you're a little more experiential and want to read, say, Planet of the Apes surrounded by actual apes, the zoo is free. Just find a bench facing the primate house and there you go, smellivision to enhance your reading experience.
Not the outdoor type and libraries too quiet for you? How about the vast array of coffee houses? There is one in practically each of Saint Louis' eclectic array of neighbourhoods. Try this list for some ideas.
A friend of mine and I hit a different one every Sunday morning. Most recently, we've been seen at Comet Coffee, Foundation Grounds Coffee and The Webster Groves Garden Cafe. All of which, I can say with some authority, would be a great place to read.
So, while our city tears itself apart in its impotent rage, I #StandWithFerguson, have stood with them. I had to explain to my seven year old why school was canceled this morning, what a riot is and why people are doing it right now. This required addressing race, and privileged and racism and poverty—all very intense subjects for a child and difficult to explain before my morning caffeine.
In my daily life I try and counter any and all blindly condemning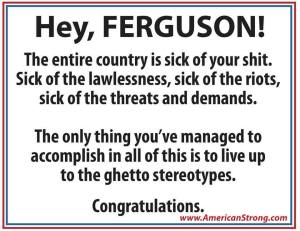 statements about Ferguson (which could be any other community in any other city), like this one that I recently found on Facebook. Whomever wrote it obviously understands nothing of any of the issues my seven year old was able to grasp the fundamentals of this morning. (Not to mention the difference between a protest, riot and looting. Just because all three occur at the same time, place or event does not mean everyone present is responsible for each.) And yes, the 'friend' who posted it got an irritated comment from me.
I also attended the Justice For All march in October and was part of the Candlelight Vigil for Peace, of which there will be another one tonight (Nov. 25th) at 7-8, central time. I invite everyone to participate.
This is our Saint Louis. I am Saint Louis; a bibliocrazy reading zealot who goes nowhere without a Kindle, and obsessively tracks good book stores and excellent coffee.
Now it's your turn. Tell me what you are, Saint Louis is and what you love about it. Include the #WeAreSTL hashtag, post to your own social media sites and add yourself to the linky below. (If you would like to include the linky in your post, you can find the code here.) Remind the world that, while what is happening in one part of our city is important, it isn't all our city is.
I've lived in a lot of towns, in a lot of states, in two different countries on two different continents and Saint Louis is one of my ultimate favourite places.
Before you run off to write/draw/film/record/sing your own #WeAreSTL post, why not check out some of the others'?

…and just for fun.