I received an ARC of A Grimoire For Gamblers, by Amanda Creiglow through Netgalley.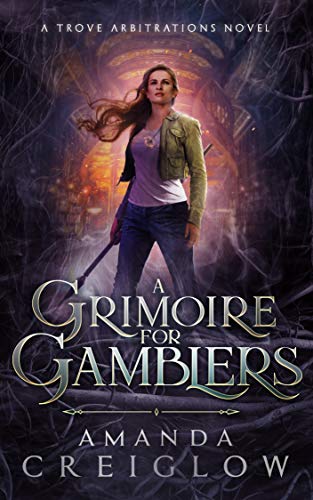 Magic may be secret, but it'll kill you anyway.
Small town mayor's assistant Elizabeth has enough on her plate grieving her father's suicide. She doesn't need his stash of magical knowledge in the attic. She doesn't need the hidden supernatural subculture of monsters it pulls her into. And she certainly doesn't need hints that her father's madness might have been a smokescreen for something far darker.
But uncovering her father's secrets could be the only way Elizabeth can stop a string of suspicious suicides… if the local wizard doesn't rip the memories out of her mind, first.
Wizards, right?

I generally enjoyed this. I liked the way Elizabeth thought things through and was able to hold multiple facts to be true at once. I liked her, as a character, and thought her adventure to save everyone was a fun one. I did think some of the Hail Mary saves actually working were a little too convenient to believe and the plot drags a little in the middle. But I always enjoy supernaturals who aren't human and therefore don't follow human logic or mores. And we have that in spades here. So, all in all, it's a thumbs up from me and I'll be looking for the rest of the series when it comes out.