I'm pretty sure I picked up the first book in Steffanie Holmes' Nevermore Bookshop as an Amazon freebie. Then, I went back and bought this compilation of the first three books (A Dead and Stormy Night, Of Mice and Murder, Pride and Premeditation) so that I could continue the series. (I'm trying to focus more on series at the moment since my reading time is limited. I want to know going in that I'll be able to reach an ending and a conclusion.)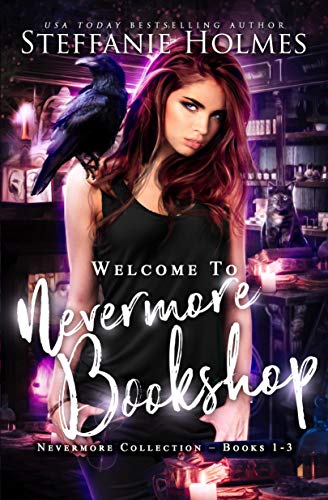 What do you get when you cross a cursed bookshop, three hot fictional men, and a punk rock heroine nursing a broken heart?
You get the Nevermore Bookshop Mysteries – where all your book boyfriends come to life.
When Mina Wilde's ex-best friend shows up dead with a knife in her back, she'll have to solve the murder if she wants to clear her name. Will Heathcliff, Moriarty and Quoth the Raven be able to keep her out of prison?
More importantly, will she be able to keep her hands off the three fictional men who've taken up residence in her bookshop… and her heart.
Agatha Christie meets Black Books in this steamy paranormal romance. Join a brooding antihero, a master criminal, a cheeky raven, and a heroine with a big heart (and an even bigger book collection) in this brand new steamy reverse harem mystery series by USA Today bestselling author Steffanie Holmes.
This collection includes books 1-3 in the Nevermore Bookshop series, plus Heathcliff's shop rules, and alternative POV scenes from Mina's heroes. Read on only if you believe one book boyfriend isn't enough.

When I write reviews for books in a series, sometimes I write a review for each individual book, and sometimes I write a single review that encompasses all the books (more accurately, a review of the series). For this series, however (or at least these first three books in the series), I think I could write reviews, and they would be the same for each book. A single review could be posted interchangeably for each one. I feel like there is that little difference between these three books. The murder victims changed, but that's about it.
I did think that the author handled Mina's impending blindness well. I felt her fear, frustration, and uncertainty. She had personal growth around the issue. And so far, there hasn't been any magical cure, and I don't see one on the horizon. So, that's a plus. I also simply liked Mina herself. And I thought the writing was quite readable.
However, I never really came to love the men. I liked them, OK, but that's about it. What's more. While the murder mysteries were fine, I chose the series for the fantasy elements and the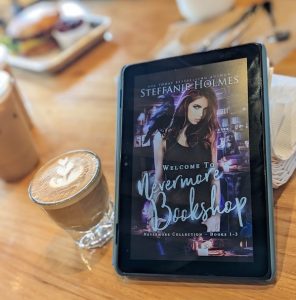 romance. Other than the fantastical existence of the men and the bookshop themselves (and Morri's ability to hack with his phone), the fantasy elements were fairly light. And the romance was definitely a slow-moving subplot. Both of these are fine, but not what I was looking for. So, the result was that I was often bored.
All in all, I think this is a fine series that just wasn't a great match for me.
---
Other Reviews:
Isabella August Reviews: Dead and Story Night