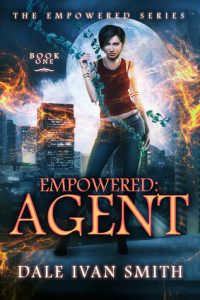 I picked up a copy of Dale Ivan Smith's Empowered: Agent when it was free on Amazon. It was still free at the time of posting.
Description from Goodreads:
The world says those with superpowers are either heroes or villains. But what if you're both?
Mathilda Brandt isn't the angry, out-of-control teenager she was before she got out of jail. She's hungry for a chance at a normal life, but when a gang threatens her sisters, she has no choice but to use her illegal superpower to protect them.
A secretive government agency gives her a choice: go back to prison for life, or infiltrate a notorious super-villain group in order to stop a psychotic Empowered. To save her city, her family, and herself, Mat must become the last thing she ever wanted to be again: a criminal.
Review:
Not bad, sort of your standard girl with superpowers gets pulled into something she doesn't want to do and then goes about kicking ass and taking names. I thought she was a little too quick to jump to the "I need to kill this guy" stage, but I also felt her conundrum.
I do, however, have to ask such YA heroines always have to be so unfailingly aggressive and unpleasant. And I'm not just talking about Mat either. All the young women who wanted to look tough were just bulldogs with spiky personalities. I swear, you'd think this was the only version of tough authors had ever heard of.
All in all, not bad, just nothing superb or stand-out about it either. It felt a little short on details, considering how long it was, but had enough action not to drag. I'd be willing to read another of the series, but I'm not racing out to buy the sequel either. A solid 3-star read.