I borrowed an audio copy of Ami Kaufman and Jay Kristoff's Aurora Rising from the library. When they didn't have an audio copy of Aurora Burning, I borrowed an ecopy.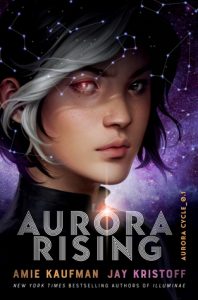 Description from Goodreads:
The year is 2380, and the graduating cadets of Aurora Academy are being assigned their first missions. Star pupil Tyler Jones is ready to recruit the squad of his dreams, but his own boneheaded heroism sees him stuck with the dregs nobody else in the Academy would touch…
A cocky diplomat with a black belt in sarcasm
A sociopath scientist with a fondness for shooting her bunkmates
A smart-ass techwiz with the galaxy's biggest chip on his shoulder
An alien warrior with anger management issues
A tomboy pilot who's totally not into him, in case you were wondering
And Ty's squad isn't even his biggest problem—that'd be Aurora Jie-Lin O'Malley, the girl he's just rescued from interdimensional space. Trapped in cryo-sleep for two centuries, Auri is a girl out of time and out of her depth. But she could be the catalyst that starts a war millions of years in the making, and Tyler's squad of losers, discipline-cases and misfits might just be the last hope for the entire galaxy.
They're not the heroes we deserve. They're just the ones we could find. Nobody panic.

These days, I go into Young Adult books hoping for the best and expecting to be disappointed. But Aurora Rising not only didn't disappoint me, it was an all-out pleasant surprise. I had a lot of fun with it. I laughed frequently, liked the characters and diversity, and was invested in the plot.
Yeah, I thought there was some predictability and a few cliches. But I also liked the unexpected nature of some of them. The heroine doesn't fall for who you'd expect, for example. All in all, I liked the book and raced out for book two. (OK, 'raced out' means I went online to digitally borrow the next book. But you know what I mean.)
As to the audio, I thought the narrators did a great job. I only had one irritant. As much as I liked all the character voices, I couldn't figure out how three people who grew up in the same place (knew each other from Kindergarden) would end up with drastically different accents. Or rather one of them would sound completely different from the other two. Even if your parents are from different places, you'd still sound like where you're from…all of you.
---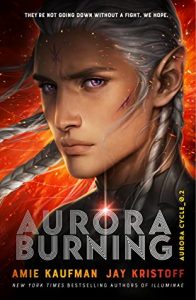 Description from Goodreads:
First, the bad news: an ancient evil—you know, your standard consume-all-life-in-the-galaxy deal—is about to be unleashed. The good news? Squad 312 is standing by to save the day. They've just got to take care of a few small distractions first.
Like the clan of gremps who'd like to rearrange their favorite faces.
And the cadre of illegit GIA agents with creepy flowers where their eyes used to be, who'll stop at nothing to get their hands on Auri.
Then there's Kal's long-lost sister, who's not exactly happy to see her baby brother, and has a Syldrathi army at her back. With half the known galaxy on their tails, Squad 312 has never felt so wanted.
When they learn the Hadfield has been found, it's time to come out of hiding. Two centuries ago, the colony ship vanished, leaving Auri as its sole survivor. Now, its black box might be what saves them. But time is short, and if Auri can't learn to master her powers as a Trigger, the squad and all their admirers are going to be deader than the Great Ultrasaur of Abraaxis IV.
Shocking revelations, bank heists, mysterious gifts, inappropriately tight bodysuits, and an epic firefight will determine the fate of the Aurora Legion's most unforgettable heroes—and maybe the rest of the galaxy as well.

As is so often the case with second books, especially when they're also middle books, I didn't like this as much as the first. That isn't to say I didn't still enjoy it, but not quite as gleefully. I missed having the crew together and all the banter that went with it. And I thought the predictability in the plotting stronger here too. I still like the characters though. I'm still interested in seeing how it all plays out, and look forward to book three. Unfortunately, it's not out yet. Which I didn't realize when I picked the series up. If I had, I might have waited a few more months to start it. Oh well, now I have to wait. But I will, because I do want to read it.