I received a copy of the special edition of Elizabeth Stephens' Taken to Voraxia in a mystery box from The Story of My Life Bookstore.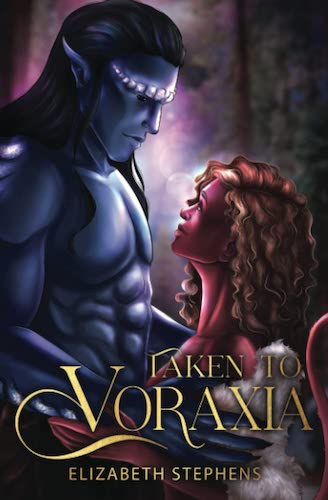 Miari
Here's what I know: aliens invade our colony every three years, hunt and claim the most beautiful of our women, then leave. Here's what I don't know: why the king of them is here this time, and why his black, glittering eyes are trained on me.
A hybrid with red alien skin and brown human eyes, I'm not pretty. I've got no family and no plans to ever have one – least of all with this monster of a male. I'm an inventor, a mechanic, a tinkerer. The alien king wants me for reasons I can only guess at, but I'm not about to be taken for a slave and his response to me is something I know I can engineer my way out of.
He plans to come back for me when I'm of age, but he'll have to find me first. Our little colony is a scary, desperate place and I'm less afraid to face it, than to face him or the strange, alien sensations he stirs…
Raku
She is my Xiveri mate, yet she runs from me – straight into the horrors of her small, savage moon colony. Slaughtering in her defense is easy, while gaining her trust will be the true challenge.
She fears my kind and the horrors my treacherous general has inflicted on her humans. Does she not know that it is my blood rite to keep her safe against him and his even more dangerous off-world allies? No, she thinks herself my slave and in place of acceptance, offers me only pacts and bargains. Shamed by her pacts, I still take them all gluttonously, because though she knows only hate, I know only need.
Eventually, we will need more than just these pacts between us if I am to convince her that she is my Xiveri mate and if she is to take her place at my side, not as my slave, but as Voraxia's queen.


I was excited to read this book. I've seen it recommended several times. And, having read it now, I can say it's fine. But that's it. It's fine. Maybe I wouldn't feel so let down by that if I hadn't gone in with such high expectations. Maybe that's on me. But this was a serious case of meh.
There was quite a lot about it I liked, but honestly, there was just as much that I didn't. I liked the characters, but nothing about them, their situation, or the plot felt believable (least of all Miari and Svera's instant transformation from all but slavery to queen and advisor). I liked the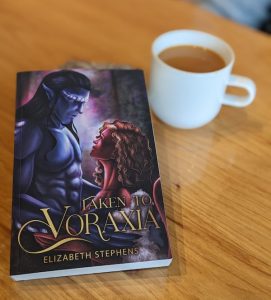 interesting world, but we see almost none of it. I liked that Raku (and supposedly his people) were made out to be so honorable. But Stephens' kept putting Miari (and the other women) in positions to need protection that contradicted the honorable people the author was hawking. I liked Raku's direct way of speaking, but I HATED that a few words were in another language (nox for no, for example). Why just these few words? So distracting!
All in all, I'll call this a middle-of-the-road read. I have a few more in the series. I'll probably read them eventually. But I'm in no hurry about it.
---
Other Reviews: