I received a free Audible code for a copy of Blood Witch Rising, by Joe Ulric. It was narrated by Christopher P. Brown.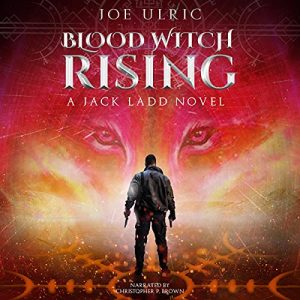 A storm is brewing, and the world isn't ready for it. Join Jack Ladd as he sheds light on the hidden world of magic and monsters. A world you already live in, but do your best to ignore.
Ages ago, the earth was cut off from other mythical realms in order to protect it from the depredations of the Asgardians. Now, a portal discovered in the Pacific Northwest is seen by a mysterious group as an opportunity to reverse that ancient act.
Aided by a sometimes helpful—but always irreverent—spirit familiar, Jack leaves the comfort of home to stop that from happening. His roommate Joshua, a Native American shaman, decides to come along. Big mistake. They are forced to navigate a world where refugees from the fabled Norse realms have been living in hiding since the bronze age. Old racial tensions and mistrust complicates this task as they take on nightmarish creatures intent on showing us how insignificant we are.
When Jack inadvertently uncovers secrets from his past, he must question his closest ally's motives and decide if he is on the right path.
One thing is certain: should he fail, all manner of legendary beings could quickly overrun the earth. Beings still angry at being kept out of their playground for over five thousand years.

I won't go so far as to say that I disliked this. I didn't. But I wasn't particularly keen on it either. I finished it merely to have finished it.
I found the pacing inconsistent, the villains opaque, the characterizations shallow, and the world vague. The result was that I never felt deeply invested in the story or the characters. I also felt very much like there should be a previous book. There was just so much history merely hinted at—Jack's brief military career, how he came to live and work with the dwarfs, the purpose of both all his combat and black smith training, how and why he chose to bond with a spirit familiar, him and his 'aunt's' relationship, etc. I felt like a big chunk of the story was missing.
Having said all of that, I did like Jack. He was noble and tried doing the right thing in difficult situations. I thought the idea of dwarfs and elves in the modern world was interesting. And I appreciated the diversity in the cast. All in all, I think this book just needs to find it's proper audience. Like I said, I didn't think it was bad. I just didn't think it worked particularly well for me.