I picked up a freebie copy of Erin Bedford's Courting Her Monsters during the Stuff Your Kindle event (along with about a million other books).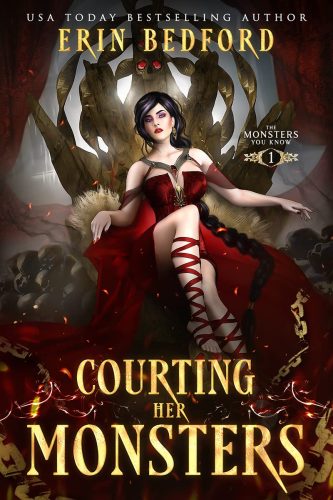 Unable to hear, I live my life in silence.
Unable to argue with my father, I live my life in service, married off to the highest bidder.
Now, to save myself and my kingdom, I will have to play the part of their prisoner.
But I'm not playing anymore, and my new betrothed is more than happy to push the limits of my body and mind. He's a monster with a handsome face…
But truer monsters wait for me, and they're ready to give me so much more than I was prepared for.
What makes a monster and what makes a man? Only I can find that out…
And my life isn't so silent anymore.

God, what a disappointment. This was a Stuff Your Kindle freebie, and I wanted to love it. I honestly enjoyed aspects of it. Yes, it's got some pretty significant plot holes. Yes, the heroine does some too-stupid-to-live things. Yes, it's completely unbelievable that if the abuse she was suffering was so severe, no one noticed (and she was up and moving around with ease). Yes, it's unbelievable that the mind-reading drake didn't know exactly what she was up to. All true. But it was still silly, fluffy fun. I would have happily said it was a three-star, nothing serious read. But good lord, the editing. I can't figure out how more people haven't mentioned it in previous reviews. Maybe they were all pre-publication and thought the problems would get fixed before it went to print. Maybe they're fake, IDK. But the fact that it's not been mentioned by more people is…odd because it's a significant issue.
Look, it's one thing to not pick up on the occasional homophone, missing word, or if the spellcheck didn't catch the use of 'up' instead of 'us.' But this book has characters who speak telepathically. This is indicated by italics, with no quotation marks or dialogue tag. But in the last 1/4 of the book, the italics just stop. So, you have dialogue with nothing to indicate it as so. In the first 3/4 of the book, there are several instances of dialogue being italicized, along with the next 3 or 4 paragraphs of the narrative. It's clear the author simply forgot to turn italics off.
Now, I'm usually pretty forgiving about editing. It's easy enough to miss the small stuff, even repeatedly. But if no one is noticing multiple instances of several paragraphs of erroneous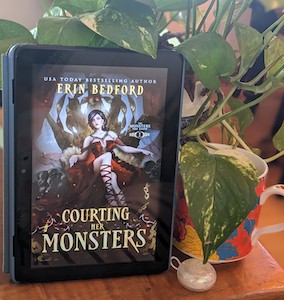 italicization, then no one read this book after the first draft, not even the author, and that's unforgivable. Thank god it was free. I'd be incensed if I'd paid for it.
The thing is, I liked the story (as ridiculous as it was). I liked that the heroine was deaf. I liked her snark and that she refused to be a perpetual victim. I liked that one of the important men is visibly marred. I liked the dragon-men and world. I might have even read the next one. But I'm not willing to pay for someone's drafts.
---
Other Reviews: