It doesn't happen often—once or twice a year, maybe. But occasionally I encounter something in or around book blogging that I choose to journal about. Usually that's in the form of venting…some might say bitching. Semantics. But here we are again. I have another one.
This might take a little explaining and what I'm mostly trying to get at is an impression. So, it's not super cut and dry. But I want to share the interactions I've recently had with an author and see if anyone else gets the same ick vibes I do. Again, this person hasn't done anything overtly wrong, but something in every interaction—brief as they've been—has just been a little off somehow.
I'm not going to say who it was, or use any back-links. Because calling them out directly isn't my point. Honestly, I hope they never see this. I'll explain why at the end. (Though the internet is the internet. So, I have no control over that.)
The whole thing started over on Sadie's Spotlight, which is a sister site to this one. Over there I

generally post books promotion (book blitzes, spotlights, cover reveals, author interviews, etc). I don't offer reviews. I have this blog for that. It does still focus on the same genres as See Sadie Read though. If I'm gonna play with books, I want it to be books I'm interested in.
Most of the content comes from tour companies. Meaning authors hire the tour company to arrange a series of promotional blog posts. And I get offers to participate, choosing those that look interesting to me. I do have a submit page for authors making their own arrangements, but I don't honestly get a lot of submissions. I work mostly with the tour companies.
One day, I got an email from a tour company I post for regularly, asking if I'd pick up a particular tour. They were short on hosts for it. It wasn't directly within my preferred genre cluster, but I said I'd share it just to be helpful. [My husband would tell me that this was my mistake. No good deed goes unpunished, after all.] There were no problems from the tour company side.
My first inkling that something was a little awry came from the author's answers to the attached interview. And again, I'm talking impressions here. But in the course of 12 questions, this author gave the impression of being smug and dismissive of the interview (and thus interviewer).
This came through in a number of ways. Several questions that could have been elaborated on were answered with a curt "no." For example, "Do you write every day?" "No.' Or "Do you ever get writer's block? What helps you overcome it?" "No."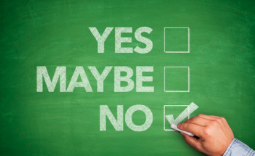 There's nothing wrong with this, unless you consider what the point of a promotional blog tour and interview is. It's to draw readers in, to gain interest. Such questions could have been cut or from the written interview, or better yet, redirected. "No, I don't write everyday. I write in inspired, sporadic bursts of creativity that leave me wrung out, emotionally exhausted, and desperate for the next wave." Or "No, I never get writers block, but sometimes this similar thing happens and I do this." Instead, the reader feels slapped in the face, as if he's sneered at them for asking about something so beneath him. Like, I wholly imagine that "no" accompanied by a derisive snort.
But then there was the last question, the absolute coup de grace, that looked like this (I cut the title to keep it vague):
What is the last great book you've read?

I don't read anymore. I read most of the masters and learned from their insight. I had read so many books until I arrived at "————-." I arrived at the end of the search and a different one began. There are many good writers today but I learned their insights long ago, and other than a change of costumes, they reach the same reality, maybe in a different language.
He doesn't read anymore? He's learned ALL the insights of the masters? Long ago, even? He knows the insights of ALL the good writers of today? From ALL over the world? I was so shocked (and appalled) by the arrogance and audacity of this answer that I made a whole Tiktok about it. (Which to, be fair, was super inappropriate of me, even if I didn't name him.)
My husband heard me making it and asked, "MAGA?" (Meaning, of course, an older, wealthy-ish, straight, white, male, with a superiority complex.) I obviously couldn't answer that. How would I know? But the…again, impression was such that I'd lean toward saying probably, yes.
But there's more. The post over on Sadie's Spotlight went off without a hitch. The author didn't say thank you, which is fine. Not all authors do. But he did post a link on his Instagram saying, "amazing Q&A with —– on "——."" (Again, I cut the identifying information.)
Given my above thoughts on the interview, I can't agree that the interview itself was amazing. But I don't think that matters. Because, given that background, I felt the amazing referred more to it being with him and about his book than about the interview questions, blog post or anything I (or the tour company that arranged it) did. Again with the self-importance. And, again, it's just an impression.
Then came the email from him, through Sadie's Spotlight's submission page saying, "Hello Sadie! Here are my images for my book submission for review!" And let me pause here and reiterate that Sadie's Spotlight does not offer reviews. The submission page does however say this:
I accept submissions for posts in the BROAD fantasy, urban fantasy, magical realism, PNR, sci-fi/fantasy romance, LGBTQ+ genres. I do accept YA, but not children's books in these genres. If you're book isn't in this genre family, sorry this isn't the place for you.
and this:
To preempt the question, I do not post reviews on Sadie's Spotlight. However, if I ever do read a book that's also on the blog I will add a note on the Spotlight with a link to the review on See Sadie Read. You are welcome to include a copy of a book, but I'm not making any promises in that department.
The point of these bullets is that authors are welcome submit a fantasy book for a spotlight on the blog and, if they include an e-copy, I might read it and post a review over on See Sadie Read, back-linking the to two posts together. But the submission is very clearly for a spotlight of a fantasy book and nothing else. There is no promise of review, none at all.
I pulled these two quotes because—first—this author's book is a self published, fictionalized memoir, not fantasy. I even tried to verify it's genre by checking Amazon and Goodreads. But the blurb section is 100% praise and not one word blurb or synopsis. [This is where my husband's comment that I shouldn't be nice comes in. I relaxed my genre limitation to accept a non-fantasy book in the first place and now all this.]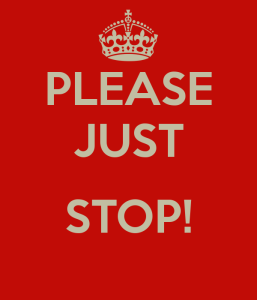 Second, since he was working with a tour organizer and had been on the blog three days earlier, there was no reason to self-submit a request for a spotlight. Which is beside the point, because—third— "Here are my images for my book submission for review!" isn't actually requesting a spotlight (the only thing on offer). It isn't, in fact, requesting anything at all. It is presuming I will review his book and benevolently providing me the images to use when I do.
A book I have not been asked or agreed to review—I have, instead been clear that I make no such promises—submitted via a form not intended for reviews at all, in a genre clearly not included in the accepted genre range, to be posted on a blog that doesn't ever post reviews, and with no evidence that he'd ever even visited the blog I do post reviews on. (Otherwise, one would presume he'd have sent his email there.) And given all the other minor irritants, I can only read the tone as arrogant and assumptive. But again, it's just an impression…another impression.
But wait, there's more. Though only a little. I, of course, wrote him back and declined to review his book.
Thank you for contacting me about —–. However, Sadie's Spotlight does not offer reviews and the book has already (and recently) been on the blog for a spotlight & interview. 

I wish you the best in future promotions. 

—Sadie
To which he responded:
It appeared u also would review so how was I going to sell myself if I told u look at the post u put up it might have been rude. Thanks
What's wrong with that, you might ask. Well, other than obviously being dashed off and not reread (not worth the effort to proofread), it subtly blames me for his mistake. My submission guidelines obviously led him to believe Sadie's Spotlight might also review books. The guidelines that say, "I do not post reviews on Sadie's Spotlight." The submission page on which question one is,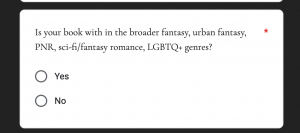 and if you mark no diverts you to a screen that says,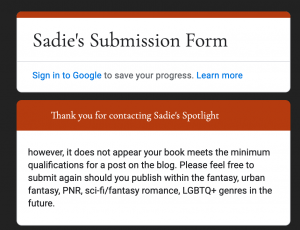 But my guidelines led him to believe I might be interested in reading and reviewing his fictionalized memoir. So, he's not at fault. (There is an LGBTQ tag, so maybe he rationalized slipping it in on that technicality. Though I generally mean fantasy with LGBTQ+ themes.)
Plus, it addresses why he sent me his images (because it would be rude to just tell me to get them off the blog post), but not that he's—surely knowingly—submitting his book (not just images, but his book too) for a review on a blog that doesn't post book reviews—even if he'd actually asked me to.
So, again, we're left with the arrogance to respond to my declination with blame and an excuse. As opposed to simple acceptance and/or maybe an apology for the mistake.
No one of the above flags is really an issue on its own. But all together leaves a very poor impression. Such that I truly wish I'd not agreed to post that first spotlight. He strikes me as the sort of man who will take everything personally (this post especially, should he find it). Thus my assertion that I hope he doesn't stumble across it.
I can imagine him coming for me hard. Not in the real world, obviously, but online. (The author who once dealt with his anger over a poor review by writing and presenting to his critique group, a rape scene about me so vile that one of his critique partners felt compelled to look me up and warn me about it, comes to mind.) Or he might even go back to the original tour company and make their life difficult, because a random blogger they partner with said online that she thought he came across as an arrogant ass.
And I do recognize that I'm walking a precarious line here. I try very hard to be agnostic about the books I post on Sadie's Spotlight. Not everything, even in the fantasy genres is going to be my cup of tea and the point is to hype books and authors up, not tear them down. So, this particular post is contrary to all my efforts over there. (And is part of why I'm not naming the author.) But sometimes a thing just has to be said, even if only in a blog post 6 whole people might see.
Besides a chance to simply vent, I do want to use this example as a chance to say to all authors—especially male authors (who I've anecdotally found to be far more guilty of this sort of thing)—to not be this guy. And if you are this guy, maybe think about not being quite so self-aggrandizing. It's not a great look…certainly isn't doing your book any favors. If I were to read it at this point, it would be 100% to see if the fictionalized memoir is as much author wish-fulfillment and chest thumping as it feels like it must be at this point.