You guys, I promised myself that this year I wouldn't find myself in mid-December scrambling to find the last few books for my yearly Author Alphabet Challenge. I was gonna have read a book by an author for every letter of the alphabet early this year. And I was on target to do it too. I had read everything except X and maybe U by about August. But man that X-author just kept right out of reach and here it is December 16th and I've just now made a desperate grab for an X-authored book, just like every year. Thus I read Eternal: Micah's Mate, by Tianna Xander. I'm happy to be able to say it completes my challenge, but disappointed that I let it get this far into the year again. Maybe next year will be the year I get it complete early.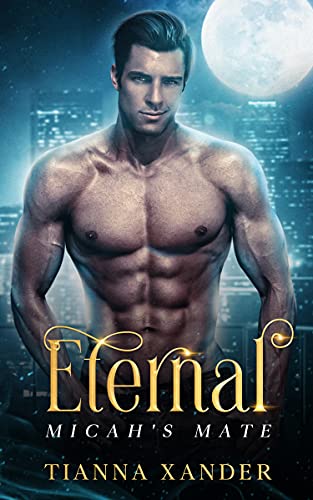 It feels like the whole world is against her – but that doesn't mean there's no time for love.
I was sure I'd end up alone forever. But as soon as I bumped into six-foot-six of tall, dark, and handsome male vampire perfection, my plans were thrown on their head. Being wanted for murder sucks – but after meeting Micah, things suddenly don't seem so bad after all…
Micah swore to protect my father's interests… even if that means babysitting his sassy and snarky daughter. He knows I have an attitude – but he's still drawn to me. And between his skills and my interdimensional magic, we might just be able to make it out of this in one piece…

This simply isn't very good. The mechanical writing and editing seems fine, but the plotting and story are a mess. In fact, I'd go so far as to say that this isn't a story. It's a series of random events connected only in that the main character is there for all of them. There is no story to become invested in because there is no story to follow. It's just what random thing will happen next with no foreshadowing, buildup, or explanation before falling instantly into irrelevance. New characters are being introduced all the way until the end, which means the reader has no connection of care for them. Nothing has any emotional impact, because nothing is given any time to develop. There is very little world-building and a ton of inconsistencies even in what there is. Honestly, if I hadn't needed an X-author for my yearly Author Alphabet Challenge I'd have DNFed this pretty early on.