I picked up Keira kandrews' In Case Of Emergency as a Christmas freebie in 2018. It got lost in my TBR for a while, but it's perfect for my Christmas Reading Challenge this year.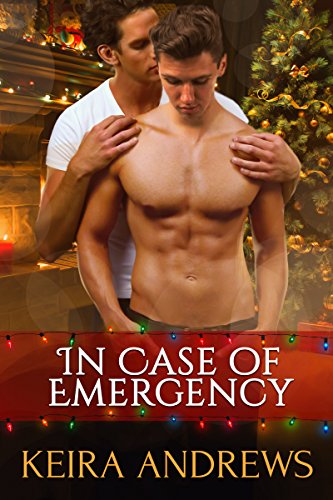 Will a boy from his past make the future bright?
Daniel Diaz likes his life neat and orderly even if it means being lonely. Maybe he's a workaholic (definitely), but he loves his HR career. What he doesn't care for is getting a bizarre call from the ER telling him an injured grad student with a concussion put him down as his emergency contact.
Daniel doesn't even recognize the name at first. Cole Smith? Cole told the hospital to call him? Their parents were married for five minutes! And it was ten years ago!
But Cole has no one else to look after him. The doctor says he can't be left alone. What's Daniel supposed to do? He has a snowy mountain getaway booked, and he's not skipping his first vacation in years.
Even if it means babysitting Cole.
Little does he know, Cole had a secret crush on him when they were teenagers.
And the kid has really grown up. He's sweet and funny and sexy. He just might thaw Daniel's grumpy heart in a romantic winter wonderland…
In Case of Emergency is a fluffy MM holiday romance from Keira Andrews featuring forced proximity, hot-tub shenanigans, Christmas feels, and of course a happy ending.


I thought this was really sweet and I enjoyed it, but it was also super predictable (as holiday romances often are). I did think it beyond believably that Justin wasn't given his walking papers sooner than he was. I saw nothing in Daniel's personality that would suggest he'd have qualms with kicking him out (and Justin certainly would have deserved it). Taxis and Uber exist, for example, and I felt like Daniel would have called one AS SOON as the road was cleared (or found some other way to remove Justin from his presence). But I thought Cole and Daniel were very sweet together, both during their careful, awkward re-acquaintance and once they'd passed that hurtle to sex and then relationship. The writing was quite readable and the story made for a nice holiday read.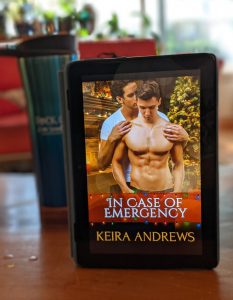 ---
Other Reviews:
~Review~In Case of Emergency by Keira Andrews~
Laquette: Triple Review for Keira Andrews
---
Come back tomorrow. I'll be reviewing A Christmas Promise, by K.C. Wells.