I borrowed an audio copy of A.J. Locke's Magic Dark, Magic Divine through Hoopla.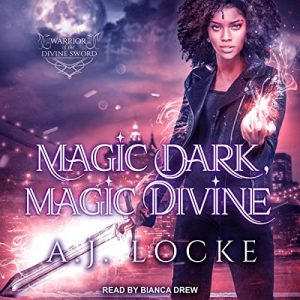 Falling asleep for almost 300 years was never part of Pennrae's plan.
Of course, when you're a mercenary with magical abilities and defy a spellbinding prophecy…bad stuff happens.Now, magic is long gone from the world. So Penn works as a karate instructor, trying very hard to dodge her hot, flirty, and super annoying colleague, Callan. All is well until a Jigori—a nightmarish magic-eating monster—shows up at a New York City street fair, forcing Penn to use her Shaper magic, which allows her to transform wood and metal into deadly weapons.
Now, the Jigori's master has her scent, and their eye on stealing her 300 years of life. If they succeed, Penn succumbs to centuries of sleep again, and magic will be unleashed on a completely unprepared world.
And to add to her ridiculously complicated life, something isn't quite right with Callan. Which she could figure out if it weren't for that evil, apocalyptic plot she's trying to stop. But Penn may not have a choice—Callan could be the secret weapon she needs to save the world…

There is a lot to appreciate about Magic Dark, Magic Divine. Not least of which is the awesome cover. The main character is likeable. The world is creative and Locke has obviously put a lot of thought into it. The side characters are fun. And I really appreciate the way they're all immigrants of one sort or another. One is a castaway in time, another an adoptee, a third the son of actual geographic immigration, the fourth a refugee from a secret, cloistered culture. They're all outsiders of a sort and, partly as a result, the found-family aspect of the book is very strong.
However, I need you to understand that I am a binger. When I read a book or series I like to do it in as few sittings as possible, one being the most ideal. So, when I tell you that I had to TWICE check this audiobook out from the library (21 days each time) before I managed to finish it, you should understand this to mean I was super disengaged. It took me almost a month to finish this book and I just wasn't bothered that I'd not finished it for most of that time.
I think the biggest issue for me was boredom. The book felt overly long and the pacing off. As I said, Locke obviously put a lot of thought into the magic systems and mystical creatures, etc. But all the way up to the end of the book the reader is still being told this leather comes from such and such animal, etc. It felt like the world-building never quite finished. Then, the villain (who had been a mere shadow throughout) was defeated quite anti-climatically and everything wrapped up pretty as a picture.
It wasn't necessarily bad, just too slow for me, I think. In a sense, I set myself up for the disappointment. I didn't recognize the author as someone I've read before (way back in 2016). I didn't get along with that last book either.
The narrator (Bianca Drew) did an OK job. I thought sometimes she did great and other times her narration felt choppy, with pauses in odd places in sentences. Now that could be how it's punctuated in the book. In which case that's not her fault.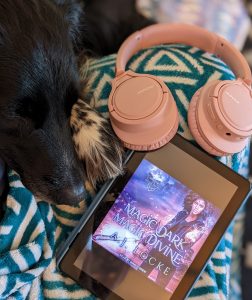 ---
Other Reviews: