I picked up Lucia Ashta's Perfect Pending (Witches of Gales Haven, #1) as an Amazon freebie, last summer.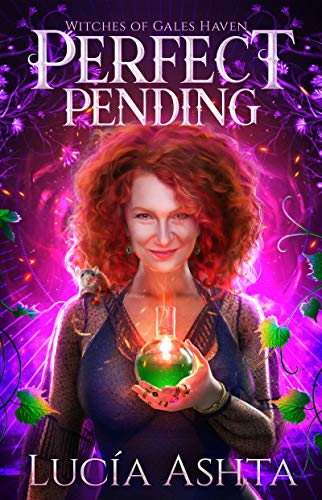 Marla's ancestors saddled her with frizzy red hair, sarcasm on tap, the Gawama last name, and the urge to run from her problems.
Her bloodline was also supposed to guarantee she'd be a powerful witch.
She isn't, not by a long shot.
Only those with magic are allowed in her hometown. Now that her teenage children are awakening, and sparking enough power to be a fire hazard, she's headed back.
Even if she isn't ready. Even if she's fresh out of divorce court.
Home is where her family is. Her nan is head of the council, and her aunts claim multiple orgasms are the source of their limber joints.
But then Marla and her kids all but blow up the town on day one. And her first boyfriend, the one who broke her heart long before her ex did, seems better than ever.
He has his eye on her…
So does everyone else.
Somehow it's on her, and the magical creature who won't get out of her head, to save Gales Haven. Before her former mother-in-law redecorates the town in baby pink … and breaks the centuries-old spell that keeps it safe and hidden.
Perfect Pending is a Paranormal Women's Fiction novel. If you love snarky stories with women so empowered they're a force to be reckoned with, then you'll love Perfect Pending, the first book in the Witches of Gales Haven series.

You know, as a 43-year-old woman I am loving this newish Paranormal Women's Fiction genre. Getting to have all the paranormal fun with heroines that are my own age is a hoot. As with any genre some of the ones I've read have been better than others. I'd call this one middle of the road. The writing and editing are perfectly readable. But the whole thing—with militant hedgehog mothers, talking mice, sex obsessed geriatrics, etc—was just a little too over the top cutesy for me. It felt very much like it was trying too hard.
Having said that, I liked Marla and her kids. (And the kids were tolerable. So often kids in such books are ridiculous in one manner or another.) I appreciate that the love interest was gentle and kind, no alpha ass-hole in sight. And the theme that family persists is a good one.
All in all, I'd read another Ashta book.