I picked up a freebie code for an Audible code of Roxanne Barbour's Alien Innkeeper.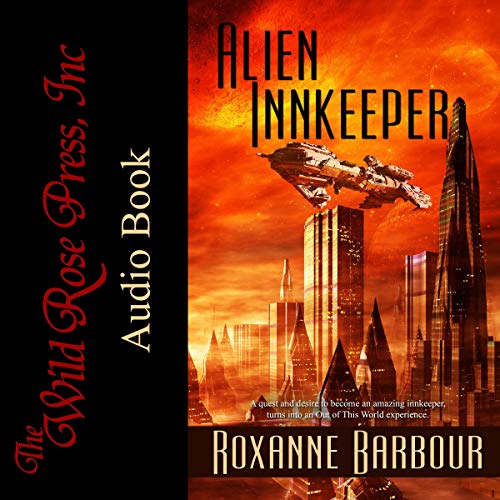 Sylvestine Amera is the manager of the Mars Best-Tycho Basin Hotel. When her first alien visitors arrive on planet, Syl is faced with solving numerous challenges. Not the least of having Dedare Sath rubbing her cheeks in a gesture she is curious to understand. Irion customs are different than what she is used to, but when Dedare who owns a hotel on Irion asks her to leave Mars and manage his flagship hotel, she is more than ready to leave her home planet behind.
Once on the alien planet Syl is subjected to new customs, more alien encounters, adventures, not to mention romance. The only problem is now she has three aliens interested in her. But before Syl is able to choose a mate, a former girlfriend of Dedare's and several other nemeses attempt to take her out of the equation—permanently. She can't help but wonder if her out of the world experience is worth dying for.

Have you ever wanted to be a hôtelière? Ever imagined yourself tending to all the minutia needed to run a large inn? I'm talking staffing, and menu creations, and billings, and reservation systems, and computer programs, and housekeeping, and tour guides, and productivity management, and employment guides, and job descriptions, and customer services? Have you? I have not. Therefore I did not enjoy this book that is almost entirely dedicated to the boring details of running a hotel, spliced in with the main character being considered amazing for implementing the most basic changes.
Sure, there was some artificial drama toward the end, based entirely on the cliched  crazy is as crazy does, jealous woman, and scorned boyfriend tropes. (I mean could it have been less creative or disconnected?) And there's a side romance that does nothing but detract from the rest of the story. And then there is the main romance that doesn't develop even far enough for me to know which man is supposed to be the romantic lead until he puts a ring on her finger. Seriously!
This wasn't necessarily badly written in general. But the dialogue is very stiff (and not just because of the language barrier between the characters) and the narrator didn't really do much to alleviate the problem.
All in all, the best I can say is that I'm happy to be finished. If you go into this hoping for something along the lines of Ilona Andrews' Innkeeper's Chronicles (which has a similar description) you will be very, very disappointed.