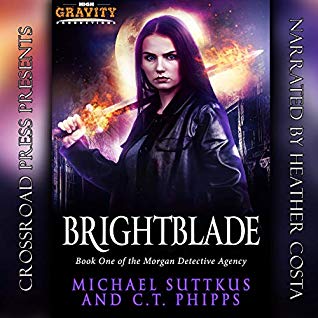 I received a free audible code for a copy of Brightblade, by Michael Suttkus and C.T. Phipps. It's narrated by Heather Costa.
Description from Goodreads:
Psychic. Superhero. Spy. Detective. Bounty Hunter. Ashley Morgan has been many things and failed at all of them. The twenty-eight-year old has her whole life ahead of her but has already resigned herself to working a dead end job bringing in the debt-ridden supernatural criminals of New Detroit. A chance encounter with the vampire sheriff reveals a secret that motivates her to change her life forever: her long-missing brother Arthur is alive (in a manner of speaking). 
Ashley sets out on a quest to not only find him but also deal with old lovers, treacherous criminals, a magic sword, and a quest to raise an ancient vampire from the dead. 

Review:
I thought this was ok, but over the top. I honestly think some readers will love it. It's chocked full of pop culture, geek references. So, anyone who really loves that will love this book. But, while I appreciate a little geekery in my books, there was just too much for me. Similarly, I think there was too much crammed into this plot—secret psychic spy schools, gods, angelic swords, lost siblings, sorcery, men in black, strippers/prostitutes, monsters, weres, vampires, etc. etc. etc. I don't feel like it allowed any aspect of the plot to develop fully.
I did like the characters and I loved that there was some casual queerness, racial diversity, a hero will autism, and a mild exploration of personal bias/racism (in regards to vampires, but I felt that was just a proxy).
All in all, not bad, but better suited to a different, maybe younger (though not too young, re strippers/prostitutes referenced above), reader.