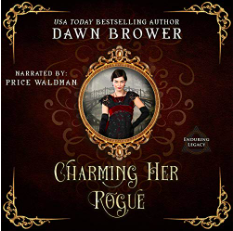 I received a free audio copy of Charming Her Rogue, by Dawn Brower.
Description from Goodreads:
Lady Catherine Langdon is special, and not because she's the daughter of a duke. She comes from a long line of individuals born with extraordinary gifts, and she is one of the few that has a variation of all three. On the brink of war she makes a decision that will irrevocably alter the course of her life—love or duty.
Asher Rossington, the Marquess of Seabrook, decided at a very early age that he would not live an idle life. His father forbade him from being a spy for the crown, but he chose to ignore it. Ash never regretted his choice, but wished he could have repaired his relationship with his father before he died. Now with the fate of the world in turmoil he has to make another hard decision—remain a spy for king and country, or go home and honor his father's title.
The Great War brings Catherine and Asher into each other's lives. Only time will tell if their destiny is to be together, or if they will ultimately serve a higher purpose.
Review:
Both the title and the book description are inaccurate.Wildly so. I kind of even question it's classification as a romance. At least in the sense that the romance genre is one in which a a love story is central, where the "main plot centers around individuals falling in love and struggling to make the relationship work." That's present yes, but it's barely central.
I'm not actually claiming this isn't a romance, just that it doesn't feel as if the romance is central to the plot. The characters fall in love within a chapter of meeting and the whole rest of the book is the war. They pass each other on occasion and tell each other how much they love each other. But the love is established early and there is NO TENSION OR CHALLENGE TO IT. Only the inconveniences of war. And honestly Asher seems to have free movement around France. So, it hardly even feels like that much of an impediment. 
Even the hard decision referred to doesn't exist. The two are firm in their non-decision to stay in France (as in they never even discuss anything else) until a singular event makes them both decide to return to England. (And that isn't honoring Asher's father's title. That is never a consideration in the narrative.) Since they both have the freedom and funds to make leaving happen in a day there is no difficulty in it.
Also, it's war and they can leave in a day. That tells you how much tension the war is really creating in the narrative. Not much.
Then there are Catherine's abilities. They are mentioned. But if you took them out of the book the plot wouldn't change at all. The single vision she tries to act on doesn't come to pass and the one that you'd expect her to act on (based on past behavior) she doesn't. The 'gifts' are a pointless plot device. 
And as to the title? Asher is in no way a rogue. There is nothing even remotely roguish about him. In the last chapter he thinks to himself that he had been a rogue before meeting Catherine. But that's it. He's kind and gentle and loyal and respectful throughout the book, and there is no reference to him chasing other women in the past. HE'S NOT A ROGUE at all. 
The writing here is perfectly competent, as is the narration. But I felt like the book was just a random series of events with very little tying it all together. Even characters appear and disappear with no point. Why did we meet James, have him disappear and be replaced with Julian? Plus, (as I said above) the description totally is inaccurate. This wasn't a total flop for me, but I didn't finish it particularly thrilled.