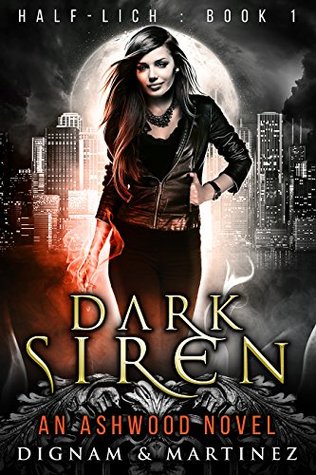 I picked Dark Siren (by Lee Dignam and Katerina Martinez) as a freebie in 2017, but I upgraded to the Audible version in my recent audiobook buying binge.
Description from Goodreads:
A nightmarish realm. A city of monsters. One girl's soul caught in the middle.  
Supernatural bounty hunter Alice Werner loves her job. She gets paid the big bucks to take down her targets and doesn't ask her clients too many questions as long as the money's good. But when a girl goes missing and the case feels all too familiar, Alice can't help but act.
Concern for the girl's safety draws her into a risky case. Compassion keeps her involved when the stakes begin to rise. Desperation forces her to call on an old flame for help. Despite their unfinished past, Alice and Isaac Moreau, a prominent Mage, must work together to save the girl.
When clues reveal more than meets the eye, Alice must face her deepest fears and confront demons from her past to protect the victim, and herself, from a fate worse than death.
Review:
This didn't work for me. I thought it too much depended on past events that weren't well integrated into the plot, the characters were fairly shallow—such that I never felt I got to know them—and the writing held far too many similes for comfort. Further, there were several instances of foreshadowing that never came to fruition in the book and the whole thing never really concludes. All in all, I wasn't impressed.
Complicating matters further for me was that I also didn't care for Laurel Schroeder's narration style. Her intonation and speech patterns annoyed me. If I had to guess at the cause, without comparing it to the written text, I'd say she over-emphasized commas. This meant that instead of there being a brief, breath-length pause in the middle of a sentence or list, there were whole full stops. Everything felt broken up. This may be a preference thing and not bother others, but it annoyed the heck out of me.