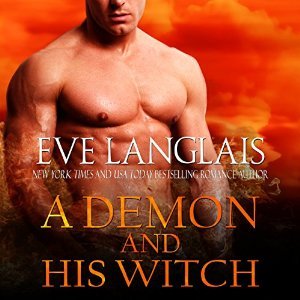 I picked up a Kindle copy of Eve Langlais' A Demon and his Witch, quite a long while ago. And I upgraded to an Audible copy on my recent audio-book buying binge.
Description from Goodreads:
Burning alive is nothing compared to the heat of his touch.
Roasted at the stake as a witch, while her lover watches, Ysabel sells her soul to the devil in return for revenge. A fair trade until her ex-boyfriend escapes the bowels of Hell and she's forced to team up with a demon to fetch the jerk back.
Remy's seen a lot of things during his long tenure in Lucifer's guard, but nothing can prepare him for the witch with the acerbic tongue–and voluptuous figure. Her mouth says 'Screw you', but her body screams 'Take me'. What's a poor demon to do when his heart makes things even more complicated by goading him to make her his, forever?
Before he can decide if his demonizing days are done though, he needs to catch the bad guys, save the girl and then find a way to convince her to love him and not kill him.
Welcome to Hell where you're screwed if you do and damned if don't. And just so you know, Lucifer's got a special spot reserved for you… 
Review:
I picked this up expecting a funny, fluffy, sexy romp. What I got instead was an entire book of the heroine forcefully saying she wasn't interested and a 'hero' who never backed off, groping her when unconscious and such. The book is just CONSTANT innuendo and icky rape-culture insistence that regardless of what a woman says, if a man persists he'll get the girl. It even uses several of the stock phrases, like, "her voice said no, but her tone said yes."
If I'm honest, there was probably a time (years ago) when I could have read this and only noticed the funny bits (and there are some) and think, "it's so hot he wants her so bad." But growing up and learning to think even minimally critically about what I read blitzed it. This is frankly just gross. Which is a shame. I've read Langlais in the past and not hated it (here, here and here, all in 2013). Now I have to wonder if those books were better or I was just oblivious to their badness.
Mindy Kennedy did a fine job with the narration, but I wonder how many times she had to take a break and step away to keep her voice steady. I didn't sense a single eye-roll in it.