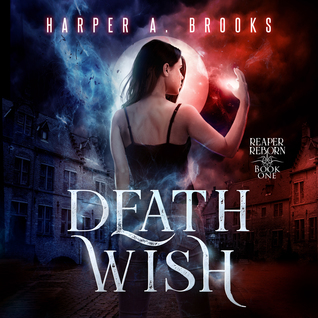 I received an Audible code for a copy of Harper A. Brooks' Death Wish. It's narrated by Eugenie Danglar.
Description from Goodreads:
Life's a b*tch—but what comes after isn't much better.

Jade Blackwell, a paranormal reaper, helps supernaturals cross over after death. Her job comes with lots of rules—but not following them is kind of her thing…until it ends up involving her in something much deadlier than she ever imagined.

With the protective veil fading away, demons are crossing realms and impregnating humans, and Jade's best friend is among their victims. She's determined to save her friend, even if it means working with Cole Masters, a dangerous demon halfling and notorious gun-for-hire.

But time is running out to fix the barrier and find a demon cure. With supernaturals everywhere in danger, and the balance between good and evil tipped for the worst, Jade must choose between her own eternal afterlife…or the living world she so desperately wants to be a part of.
Spoilery Review:
At one point, I jokingly referred to this plot as "seeking magical means to a supernatural, medically necessitated abortion." Seriously, the whole book is searching for a way to make a woman who is pregnant, not pregnant anymore. True, at the last moment the author tacks on that the baby can be saved, but that's literally a line or two in a whole book of 'how to save my friend from having this baby that she didn't plan and will probably kill her.'

If I believed the author set out to write a parable about body autonomy and a woman's right to choose, I'd call this a raging success. I don't actually think this though. I don't think Brooks had such didactic goals. Doesn't mean it can't be read that way if you want.

Beyond that, I thought the book was ok. I liked the characters and the writing was fine, but I also thought an entire book of the heroine being saved by magical powers she didn't know she had, didn't know anything about or how to use felt an awful lot like a whole series of dues ex machina (which is dissatisfying when it shows up once, let alone half a dozen times). I also thought a lot of Jade's internal monologue got redundant.

All in all, not bad, but not a huge winner either.