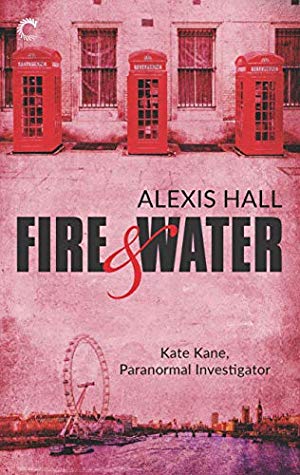 I received a copy of Fire & Water, by Alexis Hall, through Netgalley. I read and reviewed the first two books Iron & Velvet and Shadows & Dreams in 2014. My god, 2014!
Description from Goodreads:
I like my whiskey like I like my women: embroiled in a magical war

Ten years ago I fought for the Witch Queen of London in a mystical showdown against a King Arthur wannabe with a shaved head and a shotgun. Back then, the law did for him before he could do for us.

I don't think we'll get that lucky again.

As if the mother of all wizard battles wasn't bad enough, fate or destiny or a god with a really messed-up sense of humor has dropped a weapon that could rewrite the universe right into the middle of London, and anybody with half a sniff of arcane power has rocked up to stake their claim on it. Last time this happened, the city went to pieces. This time, it might just go to Hell.

Also, still dating a vampire. Still got an alpha werewolf trying to get in my pants. Still sharing a flat with a woman made of animated marble—only now apparently there are two of her. But you know what they say: the more things change, the more they stay the same crap that's been trying to kill you your entire life.
Review:
It's been almost five years since I read the first two books in this series. So, I went into Fire & Water a little warily. I wasn't sure I'd remember enough to follow the plot or if my memory of enjoying the earlier books was accurate. But Alexis Hall is one of my favorite authors, so I had faith. Hall catches the reader up on past events, in the beginning, carries Kate's sardonic humor throughout and wraps everything up (while leaving an opening for more) in the end. All in all, it was another win for me.
However, I did think things just sort of happened. From the start to the finish, the book is a series of Kate did this, did that, then a small section fo Elsie did this and that, then more Kate did this before a lot of people did that. There isn't really any pause in the series of events for any character development or even getting to know anyone if you don't already.
Despite my one complaint, I look forward to more Kare Kane in the future. I just hope I don't have to wait five years for this one.