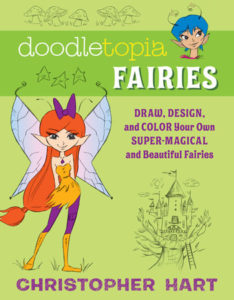 I requested a copy of Christopher Hart's Doodletopia: Fairies from Blogging for Books.
Description from Goodreads:
For years, Christopher Hart has given readers the tools and techniques needed to learn how to draw and cartoon. With the Doodletopia series, Hart offers us a chance to practice and perfect our artistic skills. For this latest title, Hart returns to the lush, gorgeous, and mystical subject of fairies. Doodletopia: Fairies provides aspiring fantasy artists and fairy fans with activities to stimulate their creativity. After covering the basics of rendering these characters, Hart sets us loose to interact with the book's many exercises and challenges. Pairing the informative content for which Hart is beloved with myriad opportunities for creative expression, Doodletopia: Fairies offers aspiring artists the next level of interactive art instruction.
Review:
I got this book, not for myself, but for my 9-year-old daughter. She seems to have gotten the talent in the family, and not from me. I've been really pleased with the results. First, it's kept her attention, which can be a challenge. Second, she's actually taken the time to read the instructional sections and learn from them, which I consider a credit to the writing. If it was anything but easy follow she'd skip it and do her own thing. But I think most telling is that when I look at the difference between the first fairy she drew in the book and the most recent (she hasn't finished the book or lessons yet) I can see a marked improvement.