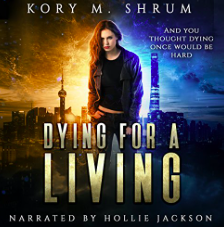 I picked up an ebook copy of Kory M. Shrum's Dying for a Living as an Amazon Freebie in 2015. Then, I purchased the Audible version in my recent audiobook buying spree
Description from Goodreads:
On the morning before her 67th death, it is business as usual for Jesse Sullivan: meet with the mortician, counsel soon-to-be-dead clients, and have coffee while reading the latest regeneration theory. Jesse dies for a living, literally. As a Necronite, she is one of the population's rare 2% who can serve as a death replacement agent, dying so others don't have to. Although each death is different, the result is the same: a life is saved, and Jesse resurrects days later with sore muscles, new scars, and another hole in her memory.
But when Jesse is murdered and becomes the sole suspect in a federal investigation, more than her freedom and sanity are at stake. She must catch the killer herself—or die trying.
Review:
This was OK. That's the best I can say for it. It wasn't bad, but nothing in it lit me up either. It's and interesting world Shrum created and I appreciated the bi-sexual lead, but I also found Jesse's constant sarcasm annoying and I often found her responses to things stupid. Here's an example, someone is trying to kill you, you know this. They've almost succeeded once already, in fact. A friend calls and frantically tells you that people are coming for you and you have to get out of the house fast. Do you drop everything and run or do you whine about how you just made a sandwich and could leaving wait? Hmmmm, this is apparently a hard decision because Jesse did the latter. There were several similar instances. There were also a couple 'well, isn't that convenient' moments. The final one with Lane, especially. So, while the book is competently written, it wasn't a winner for me.
Now, a word of the narration by Hollie Jackson. She did a fine job in the narrative parts of the story and I thought she did a fine job with Jesse and the male characters, as well. However, each and every other female in the book is voiced with such saccharine, borderline teasing tones that I wanted to slap them all. None felt natural. Never have a met a woman who actually speaks like all of these women do.