I received an Audible code for a copy of Lucy Leroux's Eat You Up.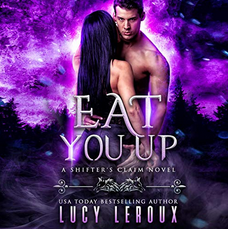 Description from Goodreads:
Dmitri, a high-end thief, is flying cross-country for a lucrative job when the woman destined to be his mate is seated next to him. Her scent drives him to the edge, but he manages to control himself on the flight by the skin on his teeth and fate—by way of the flight being diverted because of a terrible storm.

Nina isn't sure why she's trying so hard to get home in time for her sister's wedding, given that the groom is her ex. But indulging in an affair with the aggressive and attractive man who has come to her rescue brings worse problems to her table. It's just supposed to be a fling, but Dmitri clearly has no intention of leaving—ever.

When Dmitri's new employer turns out to be Nina's ex's father, the line he spent a lifetime blurring becomes crystal clear. Unfortunately, by the time he realizes this, it may be too late to save his mate.
Review:
This wasn't very good. I had the audio version and the narrator (Addison Barnes) did a fine job. That, and the fact that the grammar seemed fine, are about the only nice things I have to say about it. I thought the hero was an insufferably arrogant jackass. I didn't like him. There is one scene toward the end after he's been injured that he shows a little humility. I liked him for that paragraph and that's it. For the entirety of the rest of the book, he's pushy and self-absorbed. He walks all over the heroine and her expressed wishes.
Sadly, my dislike for the hero isn't balanced for any like of the heroine. It's not that I thought she was a doormat, she wasn't. But the book if full of things she should be angry about (her sister stole her wedding, for example, by which I mean she seduced her fiance, accepted the same ring and actually got married in the hall they'd book for the original wedding) and the heroine is sad for a little while and then just shrugged it off. No bitch, you're allowed to be angry about that and hold that grudge for a while. The author's total unwillingness to allow her heroine the natural emotion of anger angered me. If I'm supposed to relate to this character don't constrain her to the 'feminine' ideal of a pleasant milksop. Let her rage. She deserved it and I deserved to see it.
This is apparently book two of a series. I didn't realize that initially. But I had no problem following the plot. I just didn't like it very much.