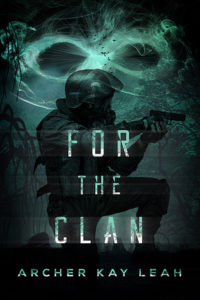 I received an e-copy of For the Clan, by Archer Kay Leah, from Netgalley.
Description from Goodreads:
Canada, 2165 AD. The Water Wars and a decimated economy have taken their toll. Anyone who doesn't live in a military-patrolled metropolis lives in a clan. But being in a clan doesn't mean safety.
And for a Ven like Roan Lee, it doesn't matter where he lives. Safety is a luxury. So is freedom.
Roan is desperate to escape the governtary's exploitation and torture. He is nothing to them but 54σK1, an artifact born from a genetic mishap. When the chance to escape arises, he makes a run for it—and encounters the lover from his past, twisting his future into a second chance he never expected.
As leaders of Clan Teach, Jace Ama and his wife, Cayra Diega, have enough difficulty keeping their people safe. When Roan is thrown to their feet as a prisoner, their marriage becomes an additional challenge. Jace still loves Roan, but where does that leave Cayra?
Review:
I enjoyed this a lot, but I think it took the easy path at almost every turn. I liked the dystopian future that is believably and recognizably the result of current world politics. But we learn very little about it. The metropolises and goventary remain faceless throughout the book. I liked the ven's magical abilities, but we're just basically told they exist and little more. I have no understanding of limitations or how any of it works. I liked the triad that formed between the main characters, but it was established far too easily. There was no palpable angst, nervousness, or jealousy at any point from anyone and everyone else just accepted it. I like the final stand the characters made, but it was resolved by a convenient and unexpected interloper. I liked the HEA, but it's hard to believe that one little fight (and it was small by goventary standards) would really make anyone safe in the long run. (In fact, I'd suspect the opposite.) None the less, it was presented as having won the war, not just the battle.
All in all, it was an interesting story, with interesting characters and it flowed well. It just didn't flow very deeply.