I bought all three of the Plumber's Mate books from the publisher, Samhain. The fourth, Blown Down, should be out later this Summer.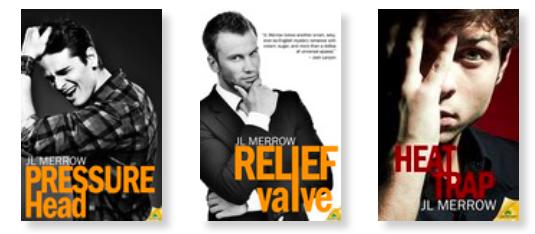 Pressure Head
To most of the world, Tom Paretski is just a plumber with a cheeky attitude and a dodgy hip, souvenir of a schoolboy accident. The local police keep his number on file for a different reason—his sixth sense for finding hidden things.
When he's called in to help locate the body of a missing woman up on Nomansland Common, he unexpectedly encounters someone who resurrects a host of complicated emotions. Phil Morrison, Tom's old school crush, now a private investigator working the same case. And the former bully partly responsible for Tom's injury.
The shocks keep coming. Phil is now openly gay, and shows unmistakable signs of interest. Tom's attraction to the big, blond investigator hasn't changed—in fact, he's even more desirable all grown up. But is Phil's interest genuine, or does he only want to use Tom's talent?
As the pile of complicated evidence surrounding the woman's murder grows higher, so does the heat between Tom and Phil. But opening himself to this degree exposes Tom's heart in a way he's not sure he's ready for…while the murderer's trigger finger is getting increasingly twitchy.
Review:
I am an American who married a Brit. We lived in England for several years and there was a longstanding joke among my husband and his family that I was the only one in the household who enjoyed British cozy mysteries. They all used to roll their eyes at me when I watched them. The thing is that they'd been watching them their whole lives in one form or another. I'd had Columbo and Murder She Wrote but Midsummer Murders, Miss Marple, and A touch of Frost were new and exciting for me.
Pressure Head was a bit like that for me. I loved the Britishness of it, but as an outsider I can't tell how much was played up for the camera, so to speak. I liked the investigation that took the character to different communities and to eat in a variety of local pubs. I liked the parking restrictions and footie references. It was an enjoyable environment to sink into for a while.
I also liked the characters. Granted, we were a little limited with just the one POV and I would have loved to know where the stormy Phil was coming from. I felt I knew the guilt and anger they brought out in one another, as well as where it came from, but not that I actually knew them well.
The mystery was a mystery all the way until the end and I appreciated that I couldn't guess. I so often do. I did feel Tom jumped into Phil's investigation with both feet and, as hesitant as he had been previously, that felt a little out of character. Similarly, for being as angry with Phil as he was in the beginning, he sure let it go quickly.
These are all small quibbles though. I have two more book in this series and I'm looking forward to reading them.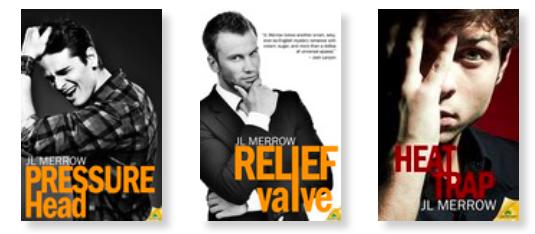 Relief Valve
It hasn't been all smooth sailing since plumber Tom Paretski and P.I. Phil Morrison became connected at the heart, if not always at Tom's dodgy hip. Neither of their families has been shy about voicing their disapproval, which hasn't helped Tom's uneasy relationship with his prickly older sister, Cherry. 
But when Cherry is poisoned at her own engagement party, the horror of her near death has Tom's head spinning with possible culprits. Is it her fiancé Gregory, a cathedral canon with an unfortunate manner and an alarming taste for taxidermy? Someone from her old writers' circle, which she left after a row? Or could the attack be connected to her work as a barrister? 
Phil is just as desperate to solve the case before someone ends up dead—and he fears it could be Tom. At least one of their suspects has a dark secret to hide, which makes Tom's sixth sense for finding things like a target painted on his back… 
Review:
Merrow is one of my favourite authors at the moment, but as much as I enjoyed the first book in this series, I have to admit to being disappointed in this one. I just didn't feel as engaged in it. The pace was a bit slow. I missed Tom's psychic abilities, which played almost no role. Egads, the puns! They almost bordered on Dad Jokes there were so many. And frankly, by the end of the second book I should feel I know the main characters. But Phil is still a frustrating mystery to me. I understand that these are mysteries with a romantic element, not romance novels, but it bothers me to feel so distant from the main character's love interest, when he plays such a big part in the books. The writing was still distinctly British and I enjoyed that. Heck, I enjoyed the book, just not as much as book one.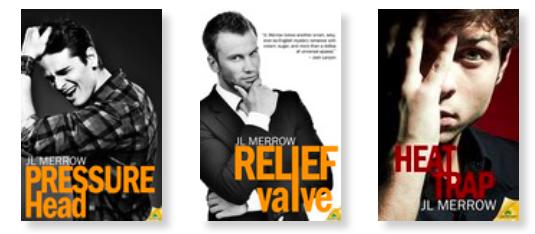 Heat Trap
It's been six months since plumber Tom Paretski was hit with a shocking revelation about his family. His lover, P.I. Phil Morrison, is pushing this as an ideal opportunity for Tom to try to develop his psychic talent for finding things. Tom would prefer to avoid the subject altogether, but just as he decides to bite the bullet, worse problems come crawling out of the woodwork.
Marianne, a young barmaid at the Devil's Dyke pub, has an ex who won't accept things are over between them. Grant Carey is ruthless in dealing with anyone who gets between him and Marianne, including an old friend of Tom and Phil. Their eagerness to step in and help only makes them targets of Grant's wrath themselves.
With Tom's uncertainty about Phil's motives, Tom's family doing their best to drive a wedge between them, and the revelation of an ugly incident in Phil's past, suddenly Tom's not sure whom he can trust.
The body in the Dyke's cellar isn't the only thing that stinks.
Review:
I think this series has stalled out for me. I've enjoyed it, but some of the characters' habits are getting on my nerves. Puns in the last book, Tom's need to describe everything as "Ye Old…" in this one. His and Phil's inability to talk about anything, not just because even English people must speak sometimes, but because, as a reader, I wanted some of those discussions. Tom consistently pulling Phil into uncomfortable situations and then getting upset that he's mad. That Sunday dinner especially, I felt Phil had every right to be angry. Every single bloomin' chapter ending with off page sex. It was so regular and predictable that it felt more like punctuation that story development. Plus, as much as I like the two of them all we ever seem to see is the arguments, so the romantic progression doesn't feel natural to me.
I know I've complained, but I do like the characters. I do like the writing. I like the humor and the dialogue. I'll definitely be picking up more of Merrow's books. But I think i'd done with these.