I received a free audible code for a copy of C. J. Geisel's Lowcountry Incantations. It's narrated by Sommer Hines.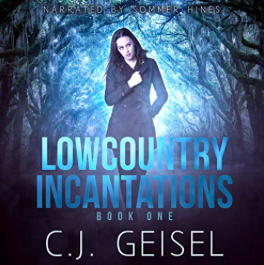 Description from Goodreads:
Quinn Riley has just had her life turned upside-down. Life is about to get worse…and weird.

After losing her job, Quinn Riley goes on the hunt for another boring, nine- to- five when a split-second decision to save a dog turns into a nightmare. The ghost of a stunning young woman in a blue dress starts to follow her, she is forced to move in with a stranger named Caleb, and events in her life have her questioning everything she thought she knew. With the help of Caleb, a new Psychologist turned friend, and a magical root doctor, she navigates the blessings and dangers of her new life. What could possibly go wrong?
Review:
This was ok. The writing was fine and I liked the characters well enough. But I feel like I must have missed the memo that told authors they were only allowed to write one story, the one where sexually sadistic men kidnap, rape and murder women. Bonus points if they can force the woman to flirt or pretend they enjoy it. and, sure, throw a ghost or magic in if they want to stand out. But ultimately be sure to follow the script. The man has to prey on the women and then, after intelligently avoiding the police for a while, has to become erratic in the end. Am I really the only one who sees how frequently this SAME storyline is used and is completely bored by it? I literally finished this book by force of will. When you know exactly what the plot is, point by point, because you've read it so many times, it's awful hard to stay invested.
I also thought there were some problematic stereotypical representations of black characters, especially around language. But I'm not entirely sure if this is in the writing or in the narrator's choice of how to voice the characters. She did an ok job in general. She had a tendency to pause in odd places in sentences though. Otherwise, it was fine.