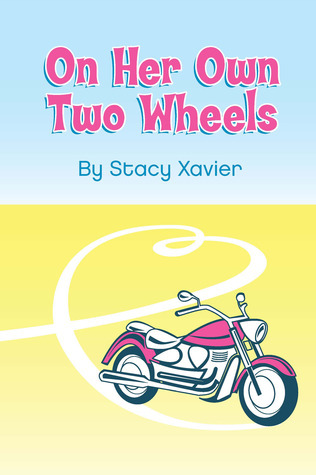 I'm in England for the holiday and the blog is on hiatus, but I wanted to make sure I managed to get this review written and posted, since On Her Own Two Wheels (by Stacy Xavier) is my 2019 X-authored alphabet challenge book.
Description from Goodreads:
Just three years out of college and Cassie Wright has hit a dead end. Still living at home with her mom and dad and dating the same writer masked as a waiter, Devon, for just as long, she knows she wants more out of life. Motorcycle lessons seem like a fun idea and the perfect escape. Cassie soon finds herself breaking away from her dull life and starts on a journey to self-confidence as she learns how to make each day extraordinary. 
While driving home from visiting her grandmother in Wisconsin, she drags a reluctant Devon to a local biker event at a motorcycle dealership. From there, she becomes inspired to take riding lessons for some much needed fun and adventure. In time, she meets Marcus, the part-time riding instructor and full-time college administrator. He is drawn to Cassie's ambition and adventurous spirit, and a romance quickly blossoms, forcing Cassie to realize she deserves better than what Devon chooses to give. 
Becoming more confident in her everyday life through her riding, Cassie quits the electronics shop to become the motorcycle dealership's new marketing director, opening herself up to an entirely new set of professional and personal obstacles. Cassie must learn to approach her issues in a whole new way while striving to be the type of woman she herself would want to emulate. 
An inspirational coming-of-age novel for any woman who has ever settled for less, romantically or professionally, On Her Own Two Wheels tells the moving tale of a young woman finding the courage to challenge herself, break the mold, seek adventure, and make the ordinary in her life extraordinary as she truly comes into her own.
Reviews:
This was light and fluffy, but I also thought the writing quite pedestrian and the plot shallow. I very much appreciate the themes the book took on—sexism in the workplace, respect in relationships, finding yourself after college, etc. But the solutions were presented as too simple to be believed. She shattered long engrained sexual harassment habits in a garage full of men with professional dress and a quelling glance, for example. 
I think my biggest issue with the book however is that it starts with the main character deciding to change her life and she does, in big ways. But we're never given any reason for this change in her attitude. It feels anchoress and random. If she's such an outspoken, feminist, respect driven woman why has she let her life get to the point it has. If she hadn't been up until the beginning of the book, what changed? I feel the book really needed that information. 
All in all, not bad but not great either.