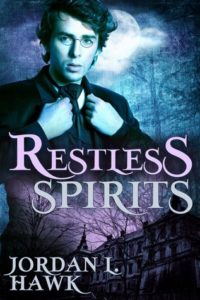 It doesn't happen often, but occasionally I find a book on my kindle or computer and have no memory of where I got it. Did I buy it and delete the receipt? Did I get it as an Amazon freebie or from Instafreebie? No idea. And Jordan L. Hawk's Restless Spirits was one of those books, right up until I went to add the link to her blog to this post and saw that you can get a copy of the book when you sign up for her newsletter. Mystery solved. That is where I got this book! You could do the same.
Description from Goodreads:
After losing the family fortune to a fraudulent psychic, inventor Henry Strauss is determined to bring the otherworld under control through the application of science. All he needs is a genuine haunting to prove his Electro-Séance will work. A letter from wealthy industrialist Dominic Gladfield seems the answer to his prayers. Gladfield's proposition: a contest pitting science against spiritualism, with a hefty prize for the winner. 
The contest takes Henry to Reyhome Castle, the site of a series of brutal murders decades earlier. There he meets his rival for the prize, the dangerously appealing Vincent Night. Vincent is handsome, charming…and determined to get Henry into bed. 
Henry can't afford to fall for a spirit medium, let alone the competition. But nothing in the haunted mansion is quite as it seems, and soon winning the contest is the least of Henry's concerns. 
For the evil stalking the halls of Reyhome Castle wants to claim not just Henry and Vincent's lives, but their very souls. 
Review:
Another complete success from Jordan L. Hawk. I don't even know when I bought this book (or maybe picked it up free), no idea. I was just scrolling through my Kindle, saw it and was like, "Oh, a Hawk book. Gotta read that right now." So, I did and I was happy.
The ghost story is scary, maybe not overly original, but scary. The characters are engaging and I loved the diversity of the cast. Did it feel a little forced? Maybe a bit, I guessed Lizzie's secret long before it was revealed, for example. But I was still too thrilled to find it to really care. There were not a lot of characters in general and it's a historical, so the book is a little limited, but one of the main characters is Native American, another Black, a third with secret I won't spoil, of course two are gay and notably, the book does not gloss over the importance and difficulties of these aspects of their character in the time period.
I did think the final battle felt a little abrupt and the villain obvious. But those are small quibbles with a book that I generally really enjoyed. The writing and editing are marvelous and I can't wait to pick up the next one in the series.