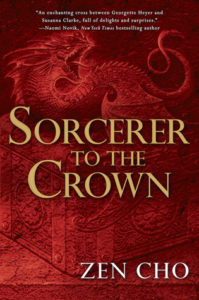 I borrowed a copy of Sorcerer of the Crown, by Zen Cho, from my local library.
Description from Goodreads:
At his wit's end, Zacharias Wythe, freed slave, eminently proficient magician, and Sorcerer Royal of the Unnatural Philosophers—one of the most respected organizations throughout all of Britain—ventures to the border of Fairyland to discover why England's magical stocks are drying up.
But when his adventure brings him in contact with a most unusual comrade, a woman with immense power and an unfathomable gift, he sets on a path which will alter the nature of sorcery in all of Britain—and the world at large…
Review:
This is a perfectly reasonable read, but it just didn't thrill me as I had hoped. It was ok, but that's about it. I liked Zacharias a lot. I tolerated Prunella. I enjoyed the side characters. There is quite a lot of humor.
But the story was just too ridiculous for me. If it had reigned itself in a little, I think it would have been a winner. But every element it employed felt over-played. This included the exotic familiars, strange hexes and magics, the racial elements (though I very much appreciated two POC main characters), the sexism of the time and Prunella's tendency to do whatever she liked with no consideration for consequences. There couldn't just be a little of something, it was always over the top.
I'd be more than happy to read more of Ms. Cho's writing, but this one didn't shine for me.