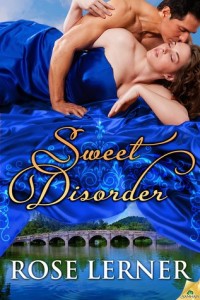 I bought a copy of Sweet Disorder, by Rose Lerner.
Description from Goodreads:
Nick Dymond enjoyed the rough-and-tumble military life until a bullet to the leg sent him home to his emotionally distant, politically obsessed family. For months, he's lived alone with his depression, blockaded in his lodgings.
But with his younger brother desperate to win the local election, Nick has a new set of marching orders: dust off the legendary family charm and maneuver the beautiful Phoebe Sparks into a politically advantageous marriage.
One marriage was enough for Phoebe. Under her town's by-laws, though, she owns a vote that only a husband can cast. Much as she would love to simply ignore the unappetizing matrimonial candidate pushed at her by the handsome earl's son, she can't. Her teenage sister is pregnant, and Phoebe's last-ditch defense against her sister's ruin is her vote—and her hand.
Nick and Phoebe soon realize the only match their hearts will accept is the one society will not allow. But as election intrigue turns dark, they'll have to cast the cruelest vote of all: loyalty…or love.
Review:
I keep wanting to love Regency romance (so I keep trying them), there are so many out there, but every time I read one I'm reminded that this isn't a genre that really works for me. Having said that, I liked this a lot more than most.
I liked that it was focused on middle-class people and small political machinations. I liked that Pheobe was given a lot of agency and that she was plump but still described as attractive. I liked a lot of the small ah-ha moments the book allows—the entrapment of manliness being as damaging as the rigid rules of femininity, the way men can coerce women into sex by playing on their socially engrained need to please without it being force but still be wrong, a real discussion between women about sex being enjoyable, etc. I liked that there were quite a lot of modern ideas discussed without it feeling anachronistic (often a particular pet peeve of mine). I liked that the characters, even the side characters, were almost all well developed.
There were aspects I didn't like too, but few of them originated in this being Regency. I disliked the evil mothers. I didn't understand why Pheobe's was so horrible and I thought Nick's held echoes of 'you can't have it all.' While I appreciated that a mother was allowed to be as absent as a father, I also felt like it was one more message of 'if you want to succeed in a career you can't also succeed as a mother.' Women can and do do both. Thank goodness Moon had a positive mother or I might have thought mothers villainized in general.
I didn't think the person who caused the whole mess was adequately punished either. This wasn't his story and I understand that, but I felt he was a shadow even in the reveal.
All in all, for being a genre I don't love, I found myself charmed by this novel. Or rather not as viscerally put off by it as I am with most Regencies and that is saying a lot for it.