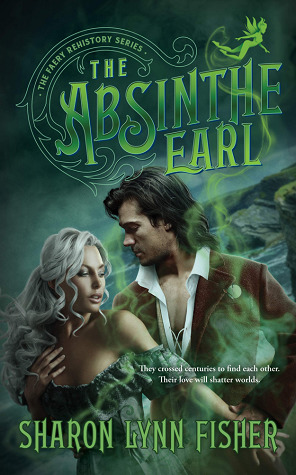 I borrowed a copy of The Absinthe Earl (by Sharon Lynn Fisher) from my local library.
Description from Goodreads:
They crossed centuries to find each other. Their love will shatter worlds.
Miss Ada Quicksilver, a student of London's Lovelace Academy for Promising Young Women, is spending her holiday in Ireland to pursue her anthropological study of fairies. She visits Dublin's absinthe bars to investigate a supposed association between the bittersweet spirit and fairy sightings.
One night a handsome Irishman approaches her, introducing himself as Edward Donoghue. Edward takes absinthe to relieve his sleepwalking, and she is eager to hear whether he has experience with fairies. Instead, she discovers that he's the earl of Meath, and that he will soon visit a mysterious ruin at Newgrange on the orders of his cousin, the beautiful, half-mad Queen Isolde. On learning about Ada's area of study, he invites her to accompany him.
Ada is torn between a sensible fear of becoming entangled with the clearly troubled gentleman and her compelling desire to ease his suffering. Finally she accepts his invitation, and they arrive in time for the winter solstice. That night, the secret of Edward's affliction is revealed: he is, in fact, a lord in two worlds and can no longer suppress his shadow self.
Little does either of them realize that their blossoming friendship and slowly kindling passion will lead to discoveries that wrench open a door sealed for centuries, throwing them into a war that will change Ireland forever
Review:
Meh. It wasn't bad, but I also thought it was fairly shallow. Everyone was just so darned nice all the time that I felt very little tension. Yes, there was the whole Ireland/Faerie war bit. But even it was essentially just dropped on the reader. It was never given the buildup it needed to give it the importance it needed. Lastly, I hated that D & C were not given their chance t, even if only once. I felt like the reader was denied satisfaction. But I also doubt D would give up so easily. [That is left purposefully vague to avoid spoilers.]
The writing itself was fine, however. And other than some over-formality, the dialogue flowed well enough and I had no issue with the editing.
All in all, an OK read. I'd pick up another of Fisher's book. But I'm not rushing out to buy them either.