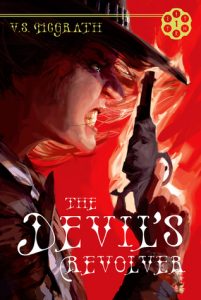 I purchased a copy of V.S. McGrath's The Devil's Revolver.
Description from Goodreads:
She is Hettie Alabama — unlikely, scarred, single-minded, and blood bound to a revolver forged by a demon.
The first book in an epic, magic-clad series featuring the Wild West reimagined as a crosscultural stereoscope of interdimensional magic and hardship, The Devil's Revolver opens with a shooting competition and takes off across the landscape after a brutal double murder and kidnapping — to which revenge is the only answer. Hettie Alabama, only seventeen years old, leads her crew of underdogs with her father's cursed revolver, magicked to take a year off her life each time she fires it. It's no way for a ranch girl to grow up, but grow up she does, her scars and determination to rescue her vulnerable younger sister deepening with every year of life she loses.
A sweeping and high-stakes saga that gilds familiar Western adventure with powerful magic and panoramic fantasy, The Devil's Revolver is the last word and the blackest hat in the Weird West.
Review:
A YA novel that avoids a lot of the common YA traps. I'm not entirely sure I even realized this was going to be YA, that the protagonist is 17ish, when I started it. (Yes, it's in the blurb, but I didn't reread it between buying the book and actually reading it.) Even once I did realize, I never felt Hettie fell into the simpering, angst-filled role that annoys me so much in so many YA stories. What's more, while there is a male character that MIGHT later fulfill a romantic pairing, this story wasn't cluttered up with ill-timed youthful luuurve.
I did feel Hettie's obsessive determination wasn't wholly explained. I mean, yes, she wanted her last family member saved, but she seemed a little too driven and compulsive. This may have been because the reader is never really given the opportunity to see Hettie interact with Abby, so Abby is forever a theoretical motivation. Also, I felt some of the magic system was a bit hand-wavy.
I enjoyed the writing, which I found clean and easy to read. It have enough Western slang to give it character, but not enough to clutter the narrative. All in all, I enjoyed it and would happily read another McGrath book.