I borrowed a copy of Ilona Andrews' The Kinsman Universe through Hoopla. I didn't realize immediately that it was short stories/novellas. Or rather, I think I did in the past and that's why I hadn't read it. But I didn't when I borrowed it the other day. I just thought, "Oh, an Ilona Andrews I haven't read yet!" For a woman who keeps saying I don't particularly enjoy short stories, I somehow have read three collections in a row. This one was only three stories though. So, I've only written a brief review to cover it.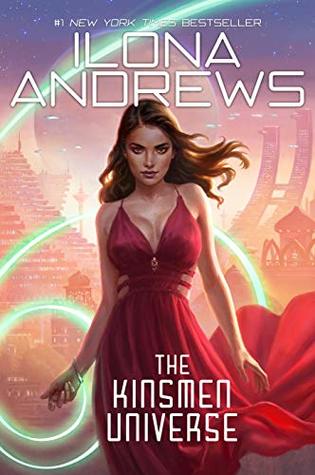 Description from Goodreads:
Family is everything. Talent is power. And revenge is sweet.

In a distant, future world Kinsmen-small powerful groups of genetically and technologically advanced families-control vast financial empires. They are their own country, their own rulers, and their only limits are other Kinsmen. The struggle for power is a bloody, full-contact sport: in business, on the battlefield…and sometimes in the bedroom.
Review:
These were ok, but not up to the standard of many of Andrews' other (longer) works. Silent Blade made me angry. I'm not particularly forgiving of heroes that substantively harm the heroine, even by accident. I thought Silver Shark the best—most developed—but A Mere Formality, as silly and ridiculous as it is was my favorite.