I won a copy of The Magic Laundry, by Jacob M. Appel. Here I present it in a seasonal display. Ok, really there just happened to be a pumpkin on the table when I needed something to prop the book against. But I'm going with "seasonal."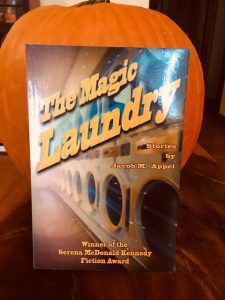 Description from Goodreads:
What would you do if your daughter returned home from college with a stolen baboon? If you owned a public laundry and the washing machines started performing miracles? If you were a flasher and discovered that your intended target had gone blind? Enter the odd, unsettling universe of Jacob M. Appel's stories….
Review:
I've said before that I'm not a great fan of short stories and as such, there are very few authors of short stories that I know and trust by name. Jacob Appel is one of them. Which is a bit of a miracle, as I only discovered his writing because I won several of his books through Goodreads. I enjoy that his stories are peopled by diverse and colorful casts, all of whom are flawed but relatable. I like that he doesn't just write for shock value, taking the darkest and therefore easiest path. In this collection, his characters are put in a variety of uncomfortable circumstances and they deal with them with all, some more successfully than others. The writing is clean and easy to read. The editing is sharp and book well worth picking up.