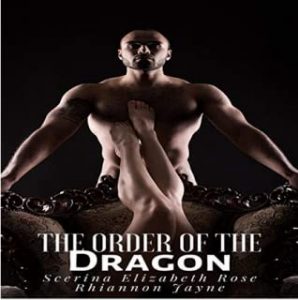 I received an Audible code for a copy of  The Order of the Dragon, by Scerina Elizabeth Rose & Rhiannon Jayne. It was narrated by Michelle Jones.
Description from Goodreads:
"What if all the stories you heard about the infamous monster name Dracula were all lies? What if there was another side to the story that no one even knew of, a side where he was not a monster but in fact a savior? What if he was a vampire who had a soul? What if the monster had a heart and yearned to be loved? The story am about to tell, is the real story of Vlad Tepes and how he came to be this infamous so-called monster called "Dracula", that everyone most feared. And I promise once am finish with this story, you will view him in a whole new light with a whole new respect and love. " ~ Mina Murray ~
How far would you go to find a cure for an illness that could take your life at any moment that was incurable?
Would you sell your soul to the very Devil himself to prolong your precious life?
And at what cost are you willing to pay for such a priceless gift?
A secret society of the very wealthy and powerful of London, England who are terminally ill and would do just about ANYTHING for a cure for their illness. Including selling their soul to the very Devil himself, Dracula.
This is a version of the classic horror tale of Dracula but with a different twist. Retold with a different perspective on mortality and immortality.
What path are you willing to take when it comes to your mortality and soul? The right path or the wrong path. And would the choice ultimately be worth it in the end.
Review:
Bad, just really really BAD!
Please, authors, if you want to write in modern vernacular just go ahead and write in modern times. It DOES NOT WORK to write modern dialogue and narration in the 1800s! And even if that wasn't true, the writing here is just sloppy. There are a ton of repeat words. Things like the word coffin being used three times in the same paragraph. The sex scenes are so cringe-worthy I fast-forwarded through them. And the plot is super inconsistent. There's a twist at the end that just doesn't work; it so contradicts everything up to that point. The audiobook narration isn't all that great either, though it does improve as the book goes along. If I hadn't been listening to it in order to get through folding a GIANT pile of laundry I'd have DNFed this for sure.