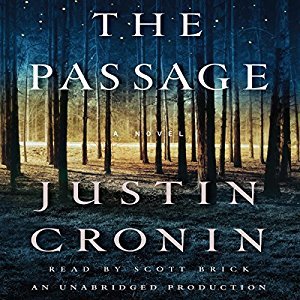 I borrowed an audio copy of The Passage (by Justin Cronin) through my local library.
Description from Goodreads:
"It happened fast. Thirty-two minutes for one world to die, another to be born." 
First, the unthinkable: a security breach at a secret U.S. government facility unleashes the monstrous product of a chilling military experiment. Then, the unspeakable: a night of chaos and carnage gives way to sunrise on a nation, and ultimately a world, forever altered. All that remains for the stunned survivors is the long fight ahead and a future ruled by fear—of darkness, of death, of a fate far worse.
As civilization swiftly crumbles into a primal landscape of predators and prey, two people flee in search of sanctuary. FBI agent Brad Wolgast is a good man haunted by what he's done in the line of duty. Six-year-old orphan Amy Harper Bellafonte is a refugee from the doomed scientific project that has triggered apocalypse. He is determined to protect her from the horror set loose by her captors. But for Amy, escaping the bloody fallout is only the beginning of a much longer odyssey—spanning miles and decades—towards the time and place where she must finish what should never have begun.
Review:
When I finished this 800 page (37 hour audio) book and came upstairs to rant, "You will never believe…" at my husband, his response was that my review should read only, "Justin Cronin, fuck that guy." And while that's going a bit far, considering the book is pretty good, writing an 800 page epic that ends on a cliffhanger deserves at least an adjacent "fuck you." For real! Yeah, I'm lookin' at you Cronin. 
Outside of the lack of ending, the book has an interesting zombie/vampire blend going on and an engaging cast (just don't get too attached to anyone), and a thought provoking plot. It also has an unexpected (by me) religious undertone. The thing is all a fairly blunt Noah/Floodesque purging of evil for the betterment of man parable.
I do think it's far too long. There just isn't any reason it needs to be almost 800 pages long. It wanders and wends too much. While I'm interested in finishing the story, I'm not up for two more tomes of this length to get it. I'm stepping away. Maybe I'll come back to it. Maybe.
On a side note, the narrators (Scott Brick, Adenrele Ojo, and Abby Craden) did an excellent job.