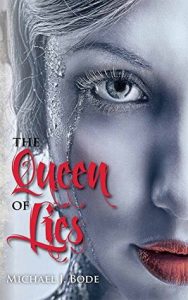 I received a free copy of The Queen of Lies
, by Michael J. Bode for signing up to Queer Sci-Fi's mailing list.
Description from Goodreads:
Maddox is a mage with dreams of immortality and a drinking problem. Heath is a faithless priest working as an assassin for hire, paired with a sentient sword. Jessa, the last daughter in a long line of Thrycean tyrants, is a timid young woman seeking to escape her domineering mother, Satryn.
Rivern, the greatest city in the Protectorate, is a place of arcane magic and mechanical wonders that has stood for five hundred years as a bulwark against the tyrannical Stormlords of Thrycea. But Riven's strong foundation is beginning to crack. People are dying in their sleep, the dead are walking the streets, refugees are flooding the city, and a mysterious Harbinger has returned with dire omens that could mean the end of the Protectorate.
Murder, magic and politics create a menacing tangle that the three must resolve before the Protectorate is crushed. But first they must save each other.
Review:
This took quite a long time to come together, but eventually it did and I enjoyed it. I liked a lot of the characters and I didn't immediately figure out the mystery villain, which is always a bonus. Having said that, I never felt overly connected to anyone as we're only ever given a shallow understanding of them. The coda felt extraneous (for a lot of it I wasn't even sure it was connected to the primary story at all), there is quite a lot of anachronistic language, and the book really needs another editing pass. All in all, an interesting, though not perfect read.